by Pam Martens and Russ Martens, Wall Street On Parade: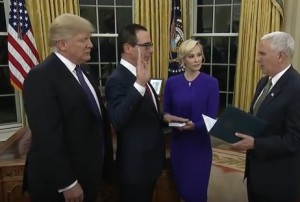 The next leg of the insatiable Wall Street heist has begun under the new U.S. Treasury Secretary Steven Mnuchin. Under the guise of empowering Americans "to make independent financial decisions," the Treasury released its set of recommendations for financial reform on Monday. Far from empowering Americans, the new recommendations would effectively place a bigger blindfold on consumers, blocking further their ability to differentiate between serially corrupt financial institutions on Wall Street and those that make an effort at playing by the rules. (The latter being an almost extinct species.)
Wall Street's fingerprints are all over the Treasury recommendations. The report has singled out for particular scalpel treatment the Consumer Financial Protection Bureau (CFPB), which Wall Street loathes because of its independence. The acronym "CFPB" appears 315 times in the 147-page report. One passage reads as follows:
"A significant restructuring in the authority and execution of regulatory responsibilities by the CFPB is necessary. The CFPB was created to pursue an important mission, but its unaccountable structure and unduly broad regulatory powers have led to predictable regulatory abuses and excesses. The CFPB's approach to rulemaking and enforcement has hindered consumer access to credit, limited innovation, and imposed unduly high compliance burdens, particularly on small institutions. Treasury's recommendations include: making the Director of the CFPB removable at will by the President or, alternatively, restructuring the CFPB as an independent multi-member commission or board; funding the CFPB through the annual appropriations process; adopting reforms to ensure that regulated entities have adequate notice of CFPB interpretations of law before subjecting them to enforcement actions; and curbing abuses in investigations and enforcement actions."
Not one negative accusation in the above passage is accurate. The CFPB has done a Herculean job of preventing the little guy in America from being further fleeced by Wall Street, mortgage servicers and lenders, student loan purveyors, debt collectors, credit card companies and so forth.
As for making the Director of the CFPB "removable at will by the President," our readers should consider how this has worked out for the FBI. As for structuring the CFPB as a "multi-member commission or board" one need only look at the unfilled empty seats on existing regulatory bodies to see how that gambit can be gamed.
Read More @ Wallstreetonparade.com
Help us spread the ANTIDOTE to corporate propaganda.

Please follow SGT Report on Twitter & help share the message.