by Michael Snyder, End Of The American Dream: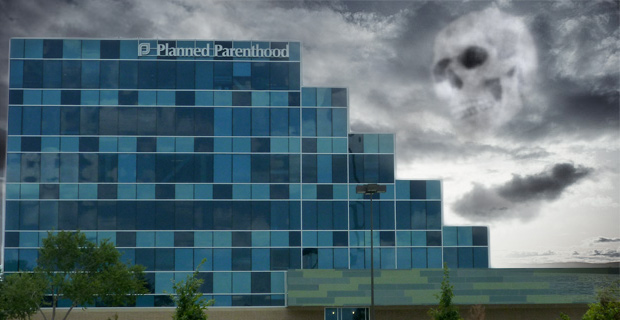 The phrase "family planning" is just a more palatable way of saying "population control". In the United States today, Planned Parenthood operates 650 "health centers" that work tirelessly to promote abortion and other "family planning measures". Planned Parenthood says that approximately 2.5 million people visit their "health centers" each year, and somewhere around 60 million people visit their website. If you are pregnant and you visit one of their clinics, abortion will be pushed very hard. In fact, former Planned Parenthood workers have told us that they actually have abortion sales quotas, and workers that meet those quotas are rewarded with pizza parties and other incentives. Of course making money is one of the primary goals, but Planned Parenthood has also always had a very deep connection to eugenics and population control.
Planned Parenthood was founded by a very strong proponent of eugenics named Margaret Sanger. In her writings she strongly denounced the "human weeds" and "reckless breeders" that she felt were bringing unfit children into this world that society would have to care for. And in a 1932 Senate hearing, she advocated a "rigid policy of sterilization and segregation" for those that were not of the right genetic stock…
"The main objectives of the[proposed] Population Congress is to…apply a stern and rigid policy of sterilization and segregation to that grade of population whose progeny is already tainted, or whose inheritance is such that objectionable traits may be transmitted to offspring."
In other words, Sanger believed that some humans are far superior to others, and that everything possible should be done to keep the inferior humans from breeding. In fact, even NPR has admitted that Sanger strongly believed in the eugenics movement…
In reading her papers, it is clear Sanger had bought into the movement. She once wrote that "consequences of breeding from stock lacking human vitality always will give us social problems and perpetuate institutions of charity and crime."
Of course Planned Parenthood continued to have strong ties to the eugenics movement long after Sanger died. In 1969, a plan to "reduce U.S. fertility" was outlined in a memo that was authored by Planned Parenthood Vice President Frederick Jaffe. The following comes from an article by Ann Olson…
In 1969, then Vice President of Planned Parenthood, Frederick Jaffe, sent a memo to the head of the Population Council, Bernard Berelson. It included a table of "Proposed Measures to Reduce U.S. Fertility." The Jaffe/Berelson Memo was drawn up by Jaffe as a companion piece to Berelson's paper, "Beyond Family Planning" published in the Population Council's February 1969 issue of Studies in Family Planning.

This shocking memo makes suggestions for policy changes to be implemented in order to achieve population control:
• Restructure family

• Postpone or avoid marriage

• Alter image of ideal family size

• Compulsory education of children

• Encourage increased homosexuality

• Educate for family limitation

• Fertility control agents in water supply

• Encourage women to work and provide few child care facilities

• Compulsory abortion of out-of-wedlock pregnancies

• Compulsory sterilization of all who have two children except for a few who would be allowed three

• Confine childbearing to a limited number of adults

• Payments to encourage sterilization

• Payments to encourage contraception

• Payments to encourage abortion

• Abortion and sterilization on demand
Of course many of the things on that list have actually been implemented since that time.
The dramatic changes that we have seen in America regarding marriage, family and sexuality over the past several decades have not happened by accident. The enemies of our way of life have an agenda, and they have been working tirelessly to carry it out.
Since Roe v. Wade was decided in 1973, close to 60 million Americans have been murdered in our country's abortion mills, and Planned Parenthood has been the biggest offender by far.
Read More @ EndOfTheAmericanDream.com
Help us spread the ANTIDOTE to corporate propaganda.

Please follow SGT Report on Twitter & help share the message.