by Justin Spittler, Casey Research:
A huge crash is coming.
That's what Mark Yusko is telling investors.
This is a bold call, for sure. But Yusko, who manages more than $2 billion at Morgan Creek Capital, is used to making (and nailing) calls like this.
In early 2015, he said that the price of oil would hit $30. At the time, oil was trading at around $50 a barrel…or half of what it traded for just eight months prior.
After a selloff like that, most people thought oil had bottomed. But Yusko knew better.
A year later, oil hit $27…its lowest price since 2004.
I'm reminding you of this because Yusko just predicted another crash.
Only this time, he wasn't talking about oil. He was talking about U.S. stocks.
Two weeks ago, Yusko warned at the annual Strategic Investment Conference (SIC) in Orlando:
I'm telling you right now, the U.S. is going to have a crash and it will be massive.
• Yusko's warning might sound familiar to regular readers…
After all, I just told you on Monday that Paul Singer thinks "all hell will break loose."
And Singer, like Yusko, is worth listening to. He manages nearly $38 billion at Elliott Management. He was also one of the first hedge fund managers to see the 2008 financial crisis coming.
When two of the world's top investors say a crash is coming, you better take notice.
In a minute, I'll show you how to prepare for this coming crash. But let's first take a look at why Yusko made his latest warning.
• The U.S. credit market is drying up…
You can see what I mean below.
This chart, which Yusko shared during his SIC presentation, shows the annual growth rate of bank loans.
When this line is rising, it means banks are issuing loans at a faster rate than they did a year ago. When it's falling, it means the rate of loan growth is slowing.
You can see that bank loan growth rolled over a couple years ago.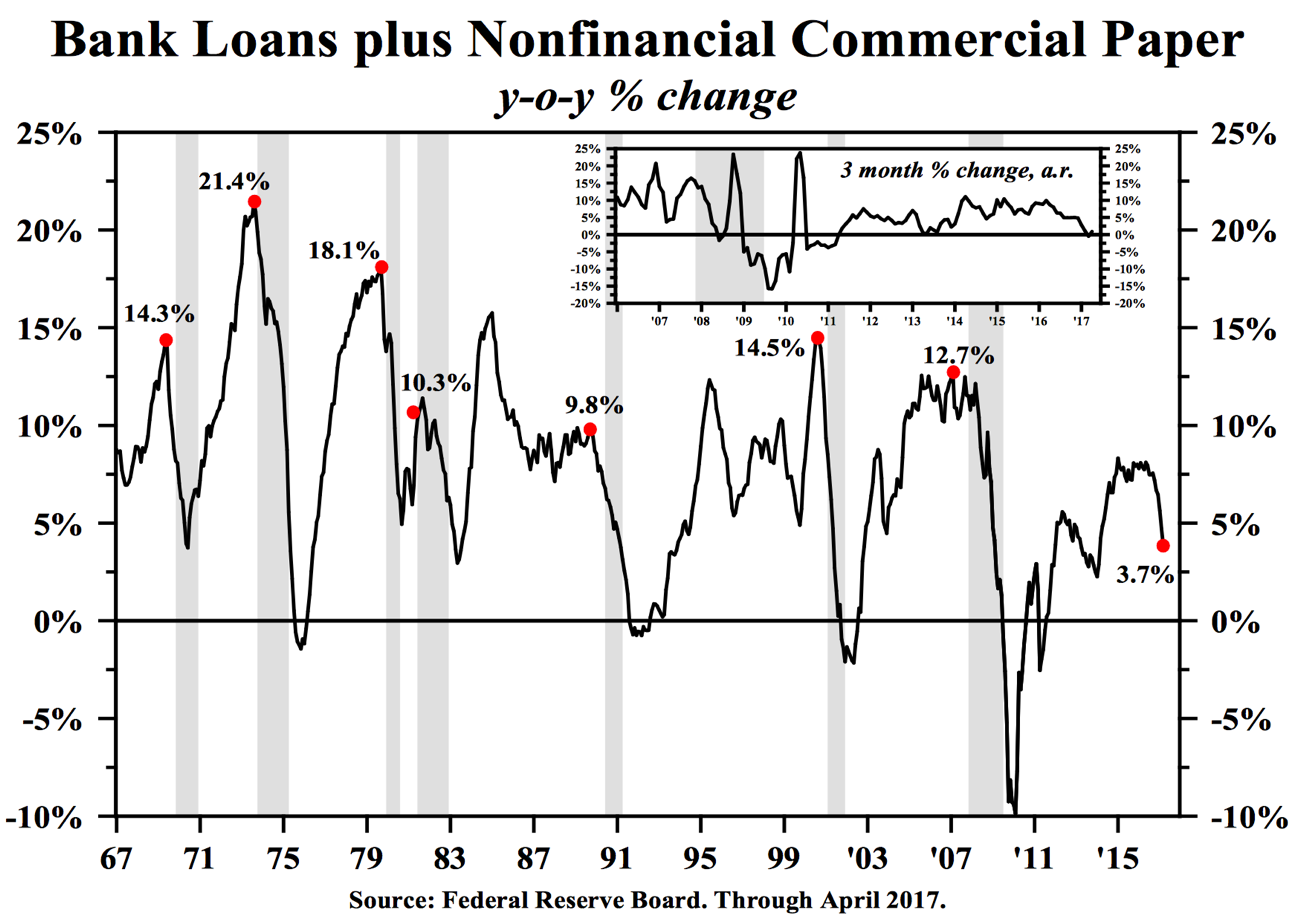 • This is a major red flag…
You see, credit is the grease that allows the wheels of the economy to turn.
When credit is flowing, the economy runs smoothly. When it dries up, the gears start to grind. If this goes on long enough, an economy can enter a downward spiral.
Don't believe me? Just look at the chart above.
You can clearly see that credit growth has petered out just before every U.S. recession since 1967.
In short, the U.S. economy will start shrinking if the credit market doesn't improve soon.
• To be fair, recessions are a normal part of the business cycle…
They can even be healthy.
But here's the thing. Yusko doesn't just think that the U.S. economy's going to have a recession.
He thinks we're about to enter a long period of economic stagnation. That's because the U.S. has 1) too much debt, 2) bad demographics, and 3) deflation.
According to Yusko, these "killer Ds" will cripple the U.S. economy over the next decade. And that's exactly why you should lighten up on U.S. stocks if you haven't already.
Help us spread the ANTIDOTE to corporate propaganda.

Please follow SGT Report on Twitter & help share the message.