by Jeff Berwick, The Dollar Vigilante:
It has been a year since I first heard the word "Steemit".
Being involved in the world of cryptocurrencies I hear a lot of things on a daily basis. So much so that I really only have the time and energy to look into a small portion of the interesting things I hear about every day.
And, so it was with Steem. It was last June that a few people began to mention it to me. "You need to take a look at this," was the general comment.
I kept hearing about it in the background noise so much that one day, last July, I decided to go to Steemit.com and make my first post, "The Dollar Vigilante Is Now On Steemit."
I hit "publish" and went on about my day expecting to never hear about Steemit again. But, soon after, out of curiosity, I went back to the site just to see if anything happened.
Below my post it said I had earned $15,000! This can't be true, I thought.
Nope, it was totally true!
Given the economic incentive I then plunged myself into learning as much about Steemit and the cryptocurrency Steem as I could.
It wasn't easy, even for a crypto savvy person like myself. Steem, designed by Dan Larimer, was incredibly intricate, technical and, well, genius!
After a few days I began to really get my head around it and began saying that Steem could change the world of social media and everyone should get on it.
What followed were hundreds of slings and arrows from people saying Steem was a scam… a ponzi scheme… or just an outright fraud.
I'm used to the arrows though. That is the definition of a pioneer, after all, "a man lying in a pool of his own blood with his back full of arrows."
I've never shied away from being the first to proclaim a paradigm shift though. I did it in 1993 when I quit my job at a bank to start an internet company that went on to be worth $240 million.
At the time hardly anyone knew what the internet was. And of those who did they said it was just a fad.
Even the great Nobel winning economist (COUGH), Paul Krugman, thought the internet would amount to nothing bigger than the fax machine.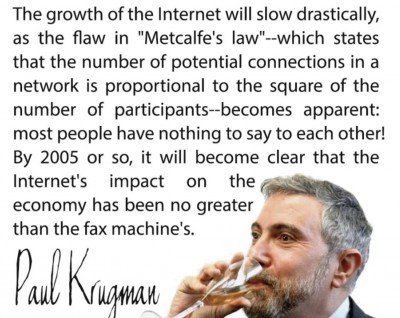 In 2011, with bitcoin at $3, I proclaimed bitcoin to be one of the most important inventions of our lifetime and an evolution in money and banking.
Even with bitcoin near $3,000 I still hear how I am wrong and that bitcoin is a fraud or ponzi scheme.
And now, with Steemit, it has been nearly a year since I said people really should get on it.
In that time, I've made more than $100,000 and still often earn more than $1,000 every time I post on the site.
I'm not the only one either. There are literally thousands of other people doing the same.
My friend, Randy Hilarski, who I interviewed on Anarchast here, and who also manages social media for The Dollar Vigilante, got on Steemit after I recommended it and has been posting daily.
Read More @ TheDollarVigilante.com
Help us spread the ANTIDOTE to corporate propaganda.

Please follow SGT Report on Twitter & help share the message.