by Pam Martens and Russ Martens, Wall Street On Parade: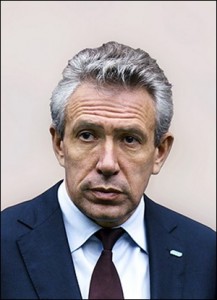 If Goldman Sachs thinks this Russian computer genius is worthy of endless prosecution for the past eight years, despite two courts overturning their efforts, perhaps he's just the man the Department of Homeland Security and FBI need to stop the Russian assault on the U.S. election system.
This morning Bloomberg News is reporting that in the leadup to the Presidential election of 2016, Russian hackers hit voting systems in a total of 39 states, confirming other reports that the U.S. public has not previously been made aware of the extent of Russian hacking into state voting systems.
In testimony before the Senate Intelligence Committee on June 8, former FBI Director James Comey stated in regard to Russian interference in our elections that "They're coming after America," adding that "They will be back."
This is where computer experts on Wall Street could help the FBI and the Department of Homeland Security. Wall Street technology experts know something that, apparently, our government doesn't: Many of the smartest programmers and hackers in the world are from Russia. If you want to catch one, you'd better hire one.
Consider the case of Sergey Aleynikov. This Russian computer programmer was so brilliant and so good at his job that Goldman Sachs decided to unleash the hounds of hell on him for the past eight years after Aleynikov had the temerity to accept another job in 2009.
After Goldman Sachs convinced the FBI to go after Aleynikov for theft of computer code in 2009, he spent 51 weeks in prison before an appellate court unanimously threw out the charges against him. The court found the case against Aleynikov so unfounded that it ordered him released from prison immediately after oral arguments. The court's written decision, handed down on April 11, 2012, found that the prosecutors had misapplied Federal corporate espionage laws.
The FBI then transferred their evidence to the Manhattan District Attorney's office, which proceeded to prosecute Aleynikov a second time. In that case, a jury found Aleynikov guilty of one count of taking "secret scientific material" from Goldman Sachs. The trial judge in that case overturned the conviction, finding that it was not warranted according to the statute. In January, an appellate panel of the New York State Supreme Court restored the earlier conviction. Aleynikov has appealed that decision to the State's highest court.
Read More @ Wallstreetonparade.com
Help us spread the ANTIDOTE to corporate propaganda.

Please follow SGT Report on Twitter & help share the message.