by Pam Martens and Russ Martens, Wall Street On Parade: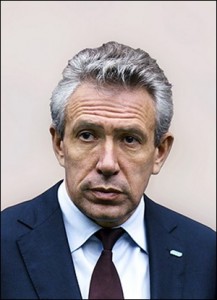 Headline writers at the New York Times need to sharpen their pencils. Yesterday's New York edition carried a front page article that links two of the biggest Wall Street banks, Citigroup and JPMorgan Chase, to the Jared Kushner affair with the Russian banker, Sergey Gorkov, Chairman of the state-owned Russian bank Vnesheconombank (VEB) which has been under U.S. sanctions since 2014. But readers would have missed that completely if they only read the softball headline, which failed to mention either bank.
Everyone on Wall Street has been waiting for the next shoe to drop in the Jared Kushner episode. Kushner is under FBI and Congressional probes over allegations that he met in December with Gorkov while simultaneously attempting to set up a secret channel to communicate with Russia using its equipment inside its own embassy – ostensibly to thwart U.S. intelligence snooping. Kushner then failed to list that meeting, as well as one or more meetings with the Russian Ambassador, Sergey Kislyak, on his form for security clearance until the meetings became public knowledge.
That shoe has now dropped. Wall Street On Parade reported on May 30 that some of the biggest names on Wall Street are sitting with hundreds of millions of dollars of that sanctioned Russian bank's bonds and notes in their mutual fund portfolios. (See related article below.) Yesterday, the New York Times reported that when Gorkov came to Manhattan to meet with Kushner in December, he also "met with bankers at JPMorgan Chase, Citigroup and another, unidentified American financial institution." The article notes that "Goldman Sachs bankers also tried to arrange a meeting but ultimately had a scheduling conflict."
The Times' reporters are quick to note that the meetings with the U.S. banks are not outlawed by the sanctions but then the paper of record climbs out on a very shaky limb, writing: "Citi and JPMorgan had long, established relationships clearing financial transactions for VEB in the United States, activities not affected by the sanctions."
According to our read of the exact language of the sanctions, any transactions between U.S. banks and VEB may well be unlawful or, at the very least, frowned upon by the U.S. government. The sanctions, imposed on July 16, 2014, read as follows:
Read More @ Wallstreetonparade.com
Help us spread the ANTIDOTE to corporate propaganda.

Please follow SGT Report on Twitter & help share the message.