by Wolf Richter, Wolf Street:
Honolulu rents plunge 19%. Landlords scramble.
In the still ludicrously expensive rental market of San Francisco, the median asking rent for a one-bedroom apartment dropped 6.1% in May from a year ago to $3,370 and is down 8.2% from the peak in October 2015. For a two-bedroom, the median asking rent dropped 6.3% year-over-year to $4,500 and is down 10% from the peak in October 2015. Reality creeps into rental la-la land.
The last episode of year-over-year rent declines in San Francisco ended in April 2010. So this is a rare occurrence. Last time, the declines started well into the Financial Crisis. This time, there is no Financial Crisis, only a "Housing Crisis," where the middle class can no longer afford to move into a modest apartment.
In New York City, the median asking rent for a one-bedroom plunged 10.8% year-over-year to $2,900 and is down 13.9% from the peak in March 2016. For the median two-bedroom, it dropped 7.9% year-over-year and is down 10% from the peak.
These are asking rents in multifamily apartment buildings, based on Zumper's National Rent Report. Single-family houses for rent are not included.
Asking rents do not consider incentives, such as "1-month-free" or "2-months-free." In San Francisco, incentives were rare. Now, as a result of a historic construction boom, new high-end apartments and condos are flooding the rental market just as job creation is sharply slowing. So landlords are scrambling to keep their units filled, and incentives have become common. The impact? With "2 months free," the first-year median rent of a two-bedroom apartment would be down 25% from its peak, or $15,000 for that year!
Incentives allow landlords to lower the rent without showing the declines to the public, thus maintaining the perception of a rent level that no longer exists. They fear that common knowledge of lower rents would repress rents further. Plus, if tenants don't move after the lease is up, the effective rent in the second year, without rent increase, jumps back to the former asking-rent level.
In the third most expensive large rental market in the US, San Jose, median asking rent for a one-bedroom rose 3.5% year-over-year to $2,370 but is down 2.5% from the peak in April 2016. For a two-bedroom, it fell 1.4% year-over-year to $2,870 and is down 6.8% year over year.
This table of the 12 most expensive large rental markets in the US shows median asking rents, their year-over-year changes, and in the shaded areas, the prior record and the change since then. Until last year, the table was covered in thick lush green: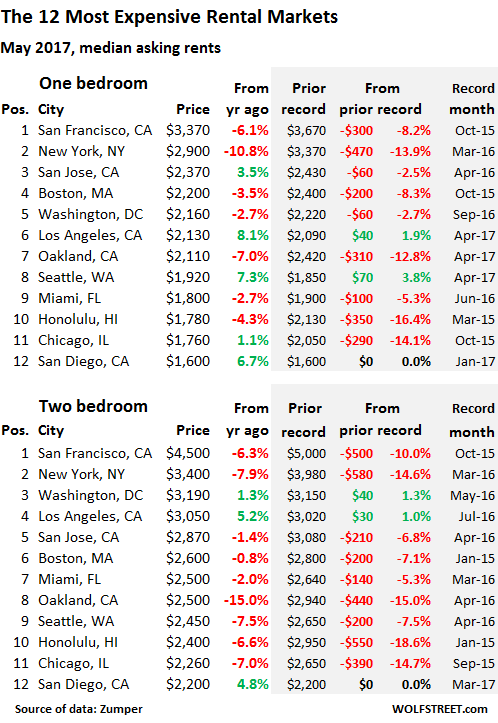 Rents in the Bay Area cities of San Francisco, San Jose, and Oakland are all down from their respective peaks. Note the 15% plunge of two-bedroom asking rents in Oakland.
But the deepest plunge in one- and two-bedroom asking rents is happening in Honolulu, down 16.4% and 18.6% from the peak, not including incentives. This is starting to be serious.
Of the top performers in rental la-la land, rents in Seattle have been on the verge of flattening out recently. While one bedroom rents set a new record, two-bedroom rents are 7.5% off their peak last April.
Help us spread the ANTIDOTE to corporate propaganda.

Please follow SGT Report on Twitter & help share the message.