by Susan Duclos, All News Pipeline: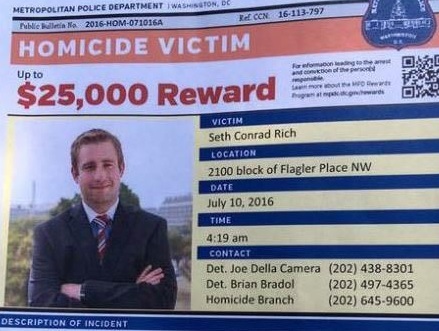 A new report, which is embedded below, after a three month investigation by The Profiling Project, which consists of a group of volunteers who are current and former George Washington University forensic-psychology graduate students and instructors, have concluded that the murder of a DNC data analyst, Seth Rich, was not the result of a "botched robbery" as DC law enforcement officials claim.
Brief Background– On July 10, 2016, amidst the Hillary Clinton campaign and DNC being roiled by Wikileaks publications of DNC emails and Podesta emails, Seth Rich, a DNC data analyst, was shot two times in the back, murdered. At the time, Wikileaks had made it abundantly clear that despite reports claiming the DNC and the Clinton campaign had been hacked, the information given to them came from a "leak," not a hack.
After the murder, Wikileaks first offered a $20,000 reward and second, Wikileaks founder Julian Assange was interviewed, spoke directly about the "risks" that leakers faced, then used Seth Rich's murder as an example of those risks.
THE REPORT – The Profiling Project: Seth Rich Homicide – Initial Findings – June 20, 2017
On page two, categorized as "Executive Summary," The Profiling Project notes six specific findings after their investigation of all publicly available information: 1) Seth's death does not appear to be a random homicide; 2) Seth's death does not appear to be a robbery gone bad; 3) Seth death was more likely committed by a hired killer or serial murderer; 4) There may be additional video surveillance of the crime and crime scene; 5) The resolution of prosecuting the individual(s) responsible appears to be hindered both actively and passively, and; 6) Seth's killer(s) most likely remains free within the community.
The report is broken down into the following sections: 1. Project Recap 2. Definitions 3. Profile of Seth Rich 4. Victimology 5. Questions We Asked 6. Neighborhood Canvas Conducted on May 4, 2017 7. Discussion, Considerations and Additional Research Needed 8. References
Readers can see the report below, including evidence looked at and the methodology used in making their determinations. Beneath the report we take a look at how the "media" is already attempting to spin the report, while ignoring some of the most important information that has been released to date regarding the murder of Rich.
The Profiling Project Seth Rich Report by WJLA-TV on Scribd
The Profiling Project Seth Rich Report by WJLA-TV on Scribd
MEDIA SPIN IN REGARDS TO SETH RICH'S MURDER AND THIS NEW REPORT
One of the first high profile publications to address this report was Newsweek, who accurately states The Profiling Project's assertion that Rich's death was more likely committed by a hired killer or serial murderer, in their article but only refers to the possibility of a "serial murderer" in their headline.
The Newsweek report is more interesting as to what they deliberately leave out of their article than what they include.
Example: In their very first paragraph they state: "A serial killer is likely behind the murder of North Carolina Democratic National Committee staffer Seth Rich, according to forensic-psychology students and instructors, who spent three months investigating the homicide." It is not until the next paragraph that they acknowledge the "hired killer" portion of point #3 in the Executive Summary.
Via Newsweek:
Rich, 27, was shot and killed in Washington, D.C., while walking home from a bar early in the morning on July 10, 2016. Conspiracy theorists on the right suggested Rich, a DNC staffer, was behind a WikiLeaks publication of a trove of DNC emails less than two weeks after his murder. These people said he was murdered by operatives who aimed to prevent the leak or because of it. United States intelligence agencies have said Russia was behind the leak.
What Newsweek deliberately neglects to mention is the reason those so-called "conspiracy theorists" believe Rich was behind the Wikileaks trove of DNC and Podesta emails, first and foremost, because the Wikileaks founder, Julian Assange, had previously assured the public the emails did not come from a "hack" but were actually "leaks." Assange had participated in an interview with Dutch television program Nieuwsuur, where he spoke of the risks that those that leak information face, then directly highlights Seth Rich's murder as an example. He goes on to refuse to directly say that Rich was the leaker of the DNC and Clinton campaign emails because Wikileaks policy is never to expose or name their sources, but his statement is obvious, and is even highlighted by the man interviewing him.
Read More @ AllNewsPipeline.com
Help us spread the ANTIDOTE to corporate propaganda.

Please follow SGT Report on Twitter & help share the message.