by Susan Duclos, All News Pipeline: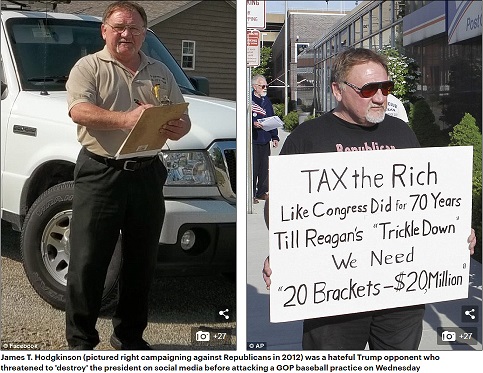 We awoke this morning to the news that gunman opened fire on Congressional Republicans practicing baseball for their scheduled Thursday annual charity baseball game, with reports stating that anywhere from 50 to 100 shots were fired, with multiple people injured, including two Capitol Hill police officers and House Majority Whip Steve Scalise, of Louisiana.
The shooter, identified as James T. Hodgkinson, appears to be a Bernie Sanders fan. His Facebook page reads, "Democratic Socialism in Three Words: 'We the People.'"
One of his most recent posts says, "Trump is a Traitor. Trump Has Destroyed Our Democracy. It's Time to Destroy Trump & Co." [sic]
"I want Bernie to Win the White House." he wrote Aug. 12th, 2016. "Bernie is a Progressive, while Hillary is Republican Lite. … Bernie is the Only Candidate in Decades that Really Cares about the Working Class."
Related: James T. Hodgkinson: 5 Fast Facts You Need to Know
According to preliminary reports, no one was killed in the attack (other than the shooter), due to the presence of Scalise's security that fired back, giving others a chance to find some cover during the 10 minute chaotic ordeal, as described by Michigan Rep. Mike Bishop, who told WWJ News Radio 950 " The only reason why any of us walked out of this thing, by the grace of God, one of the folks here had a weapon to fire back and give us a moment to find cover. We were inside the backstop and if we didn't have that cover by a brave person who stood up and took a shot themselves, we would not have gotten out of there and every one of us would have been hit — every single one of us," said Bishop. "He was coming around the fence line and he was looking for all of us who had found cover in different spots. But if we didn't have return fire right there, he would have come up to each one of us and shot us point-blank."
Before opening fire the gunman approached Rep Jeff Duncan and asked "Are those Republicans or Democrats out there practicing?"
'HATE-PROVOKING U.S. MEDIA ISN'T INNOCENT'
While we will provide links as well as statements via interviews with those that were in attendance, saying they were "sitting ducks," we are seeing much discussion across the Internet on the fact that the gunman specifically targeted Republican congressional members, and why.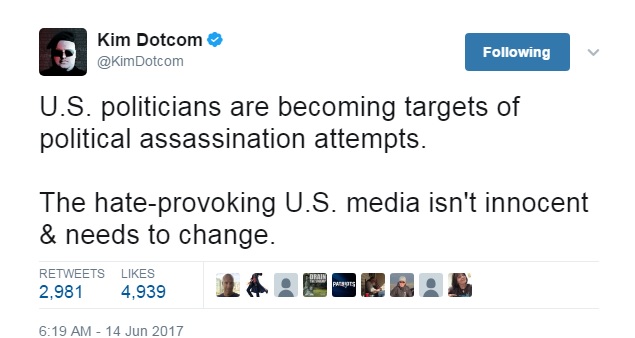 Make no mistake, the gunman is responsible for his actions, but over the last two years we have noted the consistent and deliberate actions on the part of the liberals and the establishment media to incite violence, encourage sick minds into rioting and violent actions and now into a mass shooting, and we have to ask when they will start to take responsibility for their overly partisan rhetoric, with headlines like "The House Passed A Health Care Bill That Will Kill People," or "The GOP plan for Obamacare could kill more people each year than gun homicides," or "Bernie Sanders, Democrats: Republican Health Care Bill Will Kill People," or "Republicans Are Waging A 'Coordinated Attack' On Women's Health."
The message is clear and deliberate on the part of the liberal media, the GOP wants you dead, they don't care, etc………………
Read More @ AllNewsPipeline.com
Help us spread the ANTIDOTE to corporate propaganda.

Please follow SGT Report on Twitter & help share the message.