by Wolf Richter, Wolf Street:
Aldi's $5 billion bet at a brutal time.
Today, Albertson's explained in an amended S-4 filing for a debt exchange offering just how tough things have gotten for traditional supermarket chains.
As is so often the case, there is a private equity angle to it. Albertson's was acquired in a 2005 LBO by a group of PE firms led by Cerberus. In January 2015, it acquired Safeway to eliminate some competition. It then wanted to sell its shares to the public. But in October 2015, as brick-and-mortar retail began to melt down, it scrapped its IPO.
The filing's most revealing data are same-store sales on a quarterly basis through Q4, 2016, comparing year-over-year sales growth at stores that have been open in the current and prior year. I added the red line to show the trend since Q3 2015: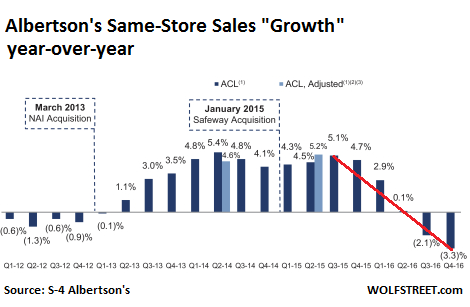 The S-4 supplied some reasons for the decline:
Our identical store sales decrease in fiscal 2016 was driven by a decrease of 1.9% in customer traffic partially offset by an increase of 1.5% in average ticket size. During fiscal 2016 our identical store sales were negatively impacted by food price deflation in certain categories, including meat, eggs and dairy, together with pressure to maintain competitive pricing in response.
The two key factors boil down to competition, precisely what the Safeway acquisition was supposed to have eliminated:
A "1.9% decline in customer traffic."
"Pressure to maintain competitive pricing in response."
In other words, starting in Q1 2016, competition pushed previously strong same-store sales growth off the cliff.
Given a series of acquisitions by Albertson's over the years, total sales rose. The following are sales for the 12-month periods:
Through Feb. 2015: $27.2 billion
Through Feb. 2016: $58.7 billion (includes Safeway)
Through Feb. 2017: $59.7 billion (includes 29 Haggen Stores and 76 A&P stores)
At the end of 2013, the company had 1,075 stores. It then acquired, divested, opened, and closed numerous stores. By the end of 2015, it had 2,271 stores. And by the end of 2016, it had 2,324 stores.
So in 2016, the net store count increased 2.3% but revenues inched up only 1.7%. Hence the decline in same store sales.
During those three 12-month periods respectively, the company had losses before income taxes of: $1.38 billion, $541 million, and $463.6 billion.
And it had total debt of a breath-taking $12.3 billion as of February 25, 2017, up from $3.7 billion in 2013 before the acquisition of Safeway and the other chains.
It's not going to get better anytime soon.
Help us spread the ANTIDOTE to corporate propaganda.

Please follow SGT Report on Twitter & help share the message.