by Wolf Richter, Wolf Street:
Demand from businesses in the real economy is slumping.
These particular layoffs aren't happening because consumers are strung out and have trouble getting financing or are switching down to used vehicles or whatever. They're happening because demand from commercial customers that ply their trade in the real economy is slumping.
Ford announced that it will lay off 130 hourly workers and eliminate one shift from May 8 until the end of September at its Ohio Truck Plant that makes medium-duty F-650 and F-750 trucks. They're are used by businesses such as…
Dump-truck operators…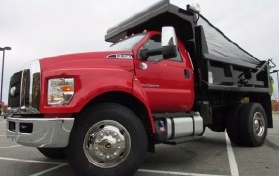 Companies that operate cargo box trucks…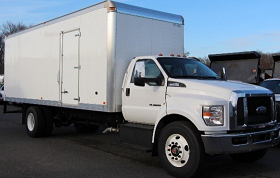 Companies that need boom and bucket trucks, such as utilities…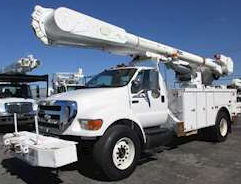 These trucks are used by construction contractors, oil field companies, and myriad of other types of businesses that ply their trade in the real economy.
The F-Series medium-duty class 6 and class 7 trucks – just below the class 8 trucks you see hauling trailers across the country – are among Ford's more profitable product lines.
They're an expression of business capital expenditures. They're considered a gauge of economic activity in the US. Demand had been strong, unlike demand for class 8 trucks which had gotten mauled by the transportation recession and for which orders had plunged in late 2015 and much of 2016. But now, it's demand for Ford's medium-duty trucks that is slumping.
The Ohio Truck Plant, which has produced 4,856 F-650 and F-750 trucks so far this year, employs about 1,600 hourly workers, Ford spokeswoman Kelli Felker said. It also builds the E-series cutaway vans.
Last year, the plant became "politically important," as the Automotive News put it:
Ford moved production of the trucks to Ohio from Mexico in August 2015 as a result of the 2011 labor contract with the UAW. The move made headlines last year during the presidential campaign as then-candidate Donald Trump berated Ford and other automakers for moving some vehicle production to Mexico.
Most of the layoffs will be voluntary, Ford said. Employees with at least one year seniority will receive about 75% of their pay while on leave.
Ford blamed the demand problem on the planned launch of the new series of F-650 and F-750 trucks in September, and so, it said, companies are delaying purchases at the end of the product life cycle of the current series.
"We expect demand to pick back up again in September," explained Ford spokeswoman Kelli Felker. "Some fleets are waiting to place their order until the new model year."
But that may only be "some fleets," as she said. She may be just trying to put a positive spin on it. If a company really needs to buy trucks to meet its business requirements, it doesn't make sense to wait until a new series comes out.
Companies often work these trucks for years and depreciate them to near zero before taking them out of service. Plus, Ford only sells the chassis, which looks like this:
Help us spread the ANTIDOTE to corporate propaganda.

Please follow SGT Report on Twitter & help share the message.