by Wolf Richter, Wolf Street:
Up 10,000% in 16 months? These charts truly depict our crazy times
"One word, a question: Ethereum," said the guy at my swim club on Sunday. "What do you think? It's a ten-bagger since January." Meaning that the value of the cryptocurrency has multiplied by ten in the four months since January 16.
It's actually more than a "ten-bagger." At the end of 2015, it was worth $0.90. As I'm writing this, it's worth $91.30. Those who bought it at the end of 2015 had a ten-bagger on their hands by January 16, 2017. Those who bought at that time also have ten bagger on their hands. Those that rode it all the way up over the 16 months have a 100-bagger. For percentage fans, that's a gain of 10,000%.
Here is the chart of this financial miracle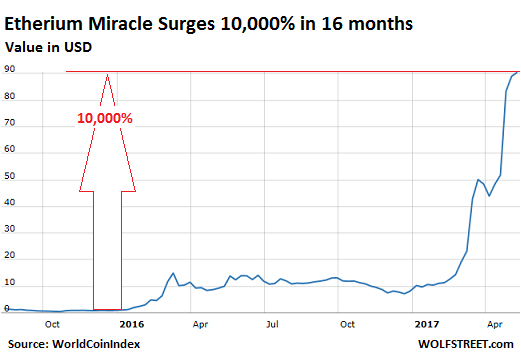 What miracle "asset" did they get when they bought it? Don't even ask. Just believe in it. It certainly isn't a usable currency for legit purposes, obviously, given this kind of insane instability. But it really doesn't matter what it is as long as it is going up.
By "market capitalization," ethereum is now the second largest cryptocurrency at $8.4 billion.
The largest one is bitcoin with a "market cap" of nearly $30 billion. It's the granddaddy of the cryptocurrencies. The value of a single bitcoin, at $1,789 on Sunday, is 46% higher than the value of one troy ounce of gold. In mid-May 2015, bitcoin was at $240. Over the two years since, it has soared 645% (via WorldCoinIndex):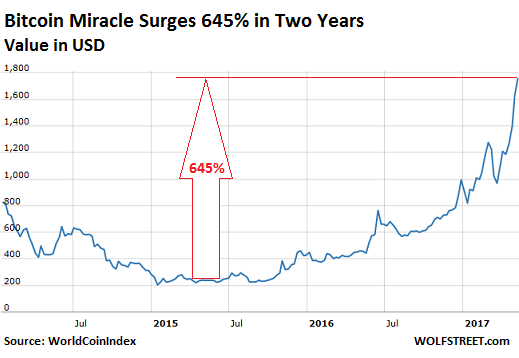 Number three in line, in terms of "market cap," is Ripple, which now trades for $0.215. There are a lot of them, and all of them combined are valued at $7.3 billion. It's up from $0.006 at the end of February 2017. So in the 11 weeks since, it has soared by 3,542%. Or to use my friend's term, it's a 35-bagger in 11 weeks. This is its ludicrous chart (via WorldCoinIndex):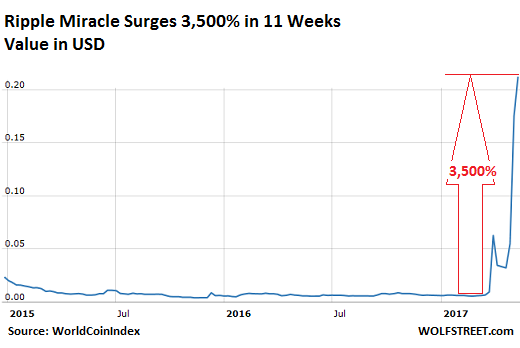 It's not some kind of bad joke. This is being played with real money. That it will inflict maximum pain on the latecomers – whenever this happens – is now perfectly clear.
Help us spread the ANTIDOTE to corporate propaganda.

Please follow SGT Report on Twitter & help share the message.