by Jeff Berwick, The Dollar Vigilante:
In the most interesting season of The Apprentice yet, reality television programming star Donald Trump said "You're fired," to the director of the FBI, James Comey.
The storyline that is played out on the mainstream Fake News media is that Comey was investigating Trump's Russian connections and this caused his dismissal.
This, of course, is complete and total BS. The whole Russian meme has been shown to be a joke since back when Killary Clinton put the card into play.
Trump supporters… and yes, there are still some even after Trump didn't put Killary in jail, didn't make Mexico pay for a wall, isn't building a wall and refilled the swamp with Goldman Sachs executives… shouted, "Ya see! He is draining the swamp!"
No, he isn't.
He's just refilling the swamp with his own people. And, I can almost guarantee you, that whoever it is will not be investigating the biggest crime done on American soil, 9/11. Nor will that person be investigating how the FBI has been behind or involved in nearly every so-called "terrorist attack" dating back to before the Oklahoma City Bombing.
The FBI only falls behind the CIA as one of the most evil and nefarious terrorist organizations in the world. It has been responsible for the kidnapping (arrest) and torture (jail) of millions who hurt no one. But Trump won't put a stop to any of that.
And, the FBI certainly won't arrest the heads of the IRS and Federal Reserve for conducting extortion and counterfeiting rackets that are unconstitutional, and therefore criminal, under the laws that the FBI is supposed to enforce.
So, Trump firing Comey is just what we said would happen. The US government will continue to have scandals, wars and other events to keep the public's minds occupied and concerned so they don't have time to think about how enslaved they are.
And that is just what this has done. Just look at the front page of the Clinton News Network, CNN: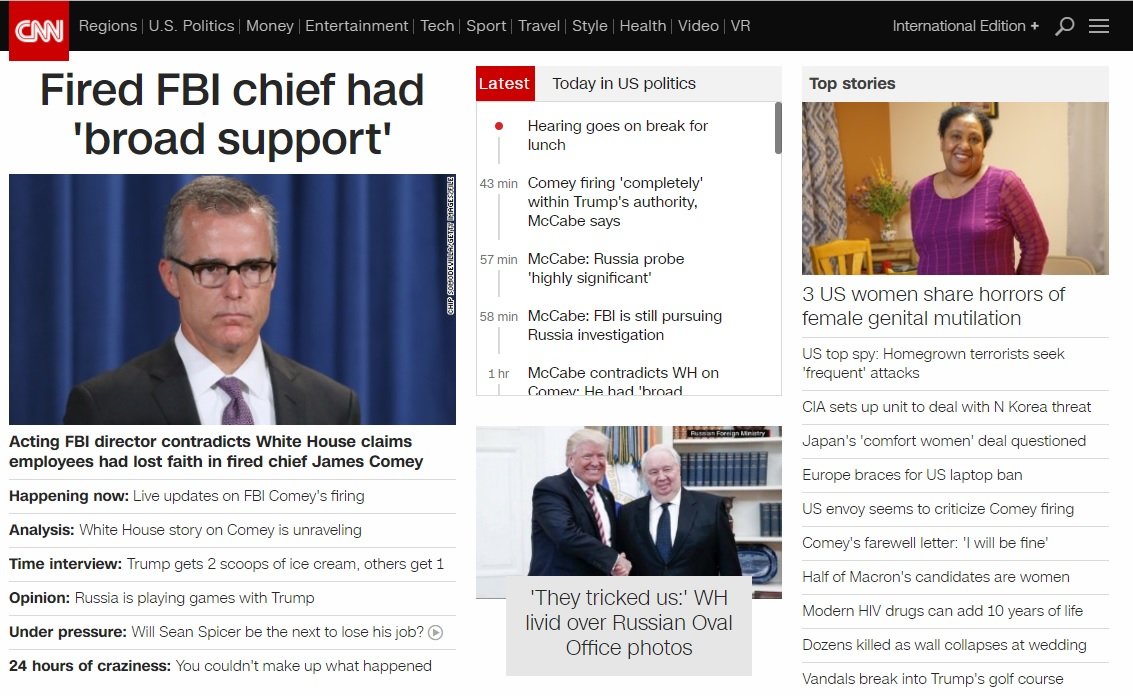 There are 25 "stories", and they are called stories for a reason… because they are fabricated fairy tales… And of those 25 "breaking" stories, 21 of them are government related.
Read More @ TheDollarVigilante.com
Help us spread the ANTIDOTE to corporate propaganda.

Please follow SGT Report on Twitter & help share the message.