by Nomi Prins, DailyReckoning: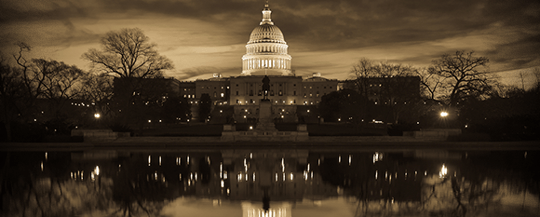 President Trump, his children and their spouses, aren't just using the Oval Office to augment their political legacy or secure future riches. Okay, they certainly are doing that, but that's not the most useful way to think about what's happening at the moment. Everything will make more sense if you reimagine the White House as simply the newest branch of the Trump family business empire, its latest outpost.
It turns out that the voters who cast their ballots for Donald Trump, the patriarch, got a package deal for his whole clan. That would include, of course, first daughter Ivanka who, along with her husband, Jared Kushner, is now a key political adviser to the president of the United States. Both now have offices in the White House close to him. They have multiple security clearances, access to high-level leaders whenever they visit the Oval Office or Mar-a-Lago, and the perfect formula for the sort of brand-enhancement that now seems to come with such eminence. President Trump may have an exceedingly "flexible" attitude toward policymaking generally, but in one area count on him to be stalwart and immobile: his urge to run the White House like a business, a family business.
The ways that Jared, "senior adviser to the president," and Ivanka, "assistant to the president," have already benefited from their links to "Dad" in the first 100 days of his presidency stagger the imagination. Ivanka's company, for instance, won three new trademarks for its products from China on the very day she dined with President Xi Jinping at her father's Palm Beach club.
In a similar fashion, thanks to her chance to socialize with Japanese Prime Minister Shinzo Abe, her company could be better positioned for deal negotiations in his country. One of those perks of family power includes nearing a licensing agreement with Japanese apparel giant Sanei International, whose parent company's largest stakeholder is the Development Bank of Japan — an entity owned by the Japanese government. We are supposed to buy the notion that the concurrent private viewing of Ivanka's products in Tokyo was a coincidence of the scheduling fairy. Yet since her father became president, you won't be surprised to learn that global sales of her merchandise have more or less gone through the roof.
Here's where things get tricky. We can't pinpoint the exact gains generated from any one meeting of the next generation Trump. They rely on the idea that, because their brand was so huge to begin with, profits and deals would have come anyway. That's why we won't ever see their books or tax returns.
Conflicts of interest? They now permeate the halls of 1600 Pennsylvania Avenue, but none of this will affect or change one thing President Trump holds dear — and believe it or not, it's not the wishes of his base in the American heartland. It's advancing his flesh and blood, and their flesh-and-blood-once-removed spouses and relatives.
Federal Regulations and Trump Family Interpretations
The Trumps and Kushners will behave in ways that will benefit their global businesses. There's just one catch. They have to get away with it, legally speaking. So the first law of family business in the Oval Office turns out to be: get stellar legal counsel. And they've done that. Their lawyers have by now successfully created trusts that theoretically — but only theoretically — separate Ivanka from her businesses and deflect any accusations over activities that may, now or in the future, violate federal rules. And there are two of those in particular to consider.
The Code of Federal Regulations is a set of rules published by the executive departments and agencies of the government. Title 18 section 208 of that code deals with "acts affecting a personal financial interest." This criminal conflict of interest statute states "an officer or employee of the executive branch of the United States Government" can't have a "financial interest" in the result of their duties. What that should mean, legally speaking, for a family occupying the executive office is: Ivanka could not have dinner with the president of China while her business was applying for and receiving provisional approval of pending trademarks from his country, if one of those acts might impact the other. To an outsider, the connection between those acts seems obvious enough and it's bound to be typical of what's to come.
Meanwhile, there are real penalties for being convicted of violating this rule. These include fines or imprisonment or both as set forth in section 216 of Title 18.
Certain lawyers have argued that Ivanka's and Jared's appointments don't violate Rule 208 or other nepotism statutes because they are not paid advisers to the president. In other words, because Ivanka doesn't get a salary for her service to her… uh, country… conflicts automatically vanish. She's already done her Trumptilian best to demonstrate her affinity for ethical behavior by cordoning herself off from her business responsibilities (sort of). According to the New York Times, "Ivanka has transferred her brand's assets into a trust overseen by her brother-in-law, Josh Kushner, and sister-in-law, Nicole Meyer." Phew, no family connections there! Or maybe she just doesn't care for her siblings-in-law.
But not all assets, it turns out, are created equal. So the daughter-in-chief will, it seems, keep her stake in the Trump International Hotel, a 15-minute stroll from the White House, which just happens to boast "the Ivanka Trump Suite" and "The Spa by Ivanka Trump." ("The Spa by Ivanka Trump™ and Fitness Center transitions guests from the Technogym setting of the Fitness Center to the tranquil spa haven that is calming, balancing, purifying, revitalizing, and healing…") There, many a foreign diplomat or special interest mogul can "calm, energize, [and] restore" himself or herself, while angling for an "in" with the family. We don't know precisely the nature of what the Trump family stands to gain from the hotel because its books aren't made public, but it's reasonable to assume that we're not talking losses. Besides this other D.C. domain, Ivanka and Jared will remain the beneficiaries of their mutual business empires now valued at about three quarters of a billion dollars, according to White House ethics filings.
But wait. There's an even more explicit rule against using public office (like, say, the White House) for private gain: Title 5 section 2635.702. On that subject, the section states that "an employee shall not use his public office for his own private gain, for the endorsement of any product, service, or enterprise, or for the private gain of friends, relatives, or persons with whom the employee is affiliated in a nongovernmental capacity."
Okay, that's wordy. And though the rule doesn't apply to the president or vice president — we have Nelson Rockefeller to thank for that, but more on him later — for any other executive office position, the rule explains that "status as an employee is unaffected by pay or leave status." That means that you can't say someone is not an employee just because she isn't drawing a paycheck, which means she isn't, in fact, exempt just because she can't show a W-2 form.
The second rule of family business is undoubtedly: control the means of enforcement. And President Trump just got his man onto the Supreme Court, so even if ethical charges rose to the highest court in the land, the family has at least a little insurance.
Bankers and Presidents: A Walk Through History
The idea of powerful bloodlines collaborating is nothing new in either business or politics. At the turn of the twentieth century, mogul families routinely intermarried to spawn yet more powerful and profitable business empires. And when it comes to Oval Office politics, American history is littered with multi-generational public servants with blood ties to presidents. Abraham Lincoln's oldest son, Robert, a Republican, served as secretary of war in the administrations of Presidents James Garfield and Chester Arthur, and finally as U.S. minister to Great Britain during President Benjamin Harrison's administration. Dwight D. Eisenhower's son, John, became a decorated brigadier-general, served as assistant staff secretary in the White House while his father was in office and was later appointed ambassador to Belgium under President Richard Nixon (once his father's vice-president). But neither of them inflated the coffers of the family business in the process.
Read More @ DailyReckoning.com
Help us spread the ANTIDOTE to corporate propaganda.

Please follow SGT Report on Twitter & help share the message.