by Pam Martens and Russ Martens, Wall Street On Parade: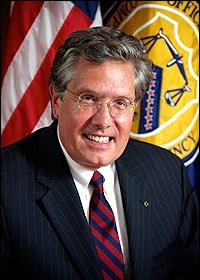 For the past three decades, Thomas J. Curry has been a public servant, specializing in bank supervision. Most recently, Curry served as head of the Office of the Comptroller of the Currency (OCC), the regulator of national banks – which oversees some of the biggest banks in the U.S.
Yesterday, the Trump administration announced that Curry would be replaced with Keith Noreika, who will serve as Acting Director of the OCC until the U.S. Senate confirms a permanent new head. Noreika's history has been that of a bank lawyer for two decades.
Noreika has been with the corporate law firm Simpson Thacher & Bartlett LLP for the past 10 months. Prior to that, however, he spent almost 18 years at Covington & Burling, the law firm where the top dogs in Obama's Justice Department sprang from. Those top dogs, including U.S. Attorney General Eric Holder, failed to prosecute one top executive of any Wall Street bank for their role in the 2008-2010 financial collapse, despite mountains of evidence of serial frauds at the banks.
Equally noteworthy, Covington & Burling has a history of its law partners moving into the top slot at the OCC. John Dugan, a former bank lobbyist who has returned to Covington to chair its Financial Institutions Group, headed the OCC from 2005 to 2010 – the critical period leading up to and including the subprime mortgage meltdown, fraudulent foreclosures, robo-signing, the rigged peddling of mortgage-backed securitizations and the largest taxpayer bailout of banks in U.S. history.
Prior to Dugan, another Covington & Burling partner, Eugene Ludwig, was appointed by President Bill Clinton to head the OCC from 1993 to 1998. That was the period leading up to the repeal of the Glass-Steagall Act in 1999. As a result of that repeal, commercial banks were allowed to merge with Wall Street investment banks, creating today's Frankenbank era of "too-big-to-fail."
Ludwig had joined other Wall Street sycophants in the Clinton administration (like Robert Rubin and Larry Summers) to champion the deregulation of Wall Street. Ludwig testified as follows before the House of Representatives on March 5, 1997 concerning the subsidy enjoyed by FDIC insured commercial banks:
Read More @ Wallstreetonparade.com
Help us spread the ANTIDOTE to corporate propaganda.

Please follow SGT Report on Twitter & help share the message.