by Susan Duclos, All News Pipeline: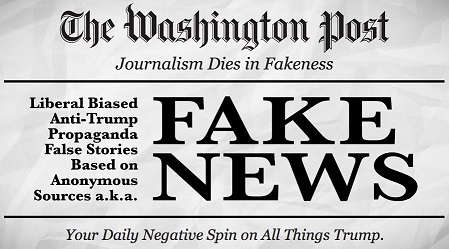 Brief Summary Of Background: DNC Data analyst, who it appears was a Bernie Sanders supporter, discovers the DNC rigged the primaries against Sanders in favor of Hillary Clinton, via internal emails exposed by Wikileaks. DNC staffer sends thousands of emails to Wikileaks. DNC staffer is murdered amidst the Wikileaks publications. Wikileaks offers 20k reward for information on DNC staffer's murder. Julian Assange of Wikileaks speaks about the risks to leakers, then brings up DNC staffers murder on the same day of reward offer.
Caught up? Good, because this story just went mainstream because the Fake News (Washington Post) decided to try to kill the story and it backfired in a big, big way…. or as President Trump is often misquoted as saying … BIGLY!!!
The DNC staffer's name is Seth Rich and he was murdered last July, and recent reports published on Fox News, show that a former DC homicide detective, hired to run a parallel investigation into his murder, found out from sources within law enforcement that Rich had previously emailed Wikileaks, dropping another bombshell during that report with the claim that he had personally been told by law enforcement officials that they were told to stand down on the investigation into Rich's murder. (ANP article on that here)
The fake news (WAPO) , who has been using a lot of anonymous sources for anti-Trump/Russia stories, without any evidence to support their claims, decided to jump into the fray in an obvious attempt to kill the Seth Rich story, because it was taking attention away from their preferred narrative and their own outright fake news stories, by wring a so-called "analysis," titled "The Seth Rich conspiracy shows how fake news still works," where they assert "The reemergence of the conspiracy theory last week, which did not lack for real news, revealed plenty about the fake news ecosystem."
BACKFIRE- By this morning there were over 65 thousand tweets trending with the term "The Seth Rich," and multiple Independent Media outlets being highlighted in that trending term, which show why the Seth Rich story has legs and much more logic than the "Russia hacked the emails" BS conspiracy the mainstream media has been pushing.
Former-DNC employee, Seth Rich, not only had access to the emails, but also a motive. He was pissed about the way the Clinton crowd was "sandbagging" Bernie Sanders. In contrast, there's neither evidence nor motive connecting Russia to the emails. On top of that, WikiLeaks founder, Julien Assange (a man of impeccable integrity) has repeatedly denied that Russia gave him the emails which suggests the government investigation is completely misdirected. The logical course of action, would be to pursue the leads that are most likely to bear fruit, not those that originate from one's own political bias. But, of course, logic has nothing to do with the current investigation, it's all about politics and geopolitics.
We don't know who killed Seth Rich and we're not going to speculate on the matter here. But we find it very strange that neither the media nor the FBI have pursued leads in the case that challenge the prevailing narrative on the Russia hacking issue. Why is that? Why is the media so eager to blame Russia when Rich looks like the much more probable suspect?
And why have the mainstream news organizations put so much energy into discrediting the latest Fox News report, when– for the last 10 months– they've showed absolutely zero interest in Rich's death at all?
Unlike the recent fairy tales from the Washington Post and New York Times, chalk full of "unnamed sources" quoting "memos" they admit they have never seen and do not have possession of, amidst proof that members of the intelligence community are using them as what they call "carrier pigeons," to push propaganda on Americans to sabotage the Trump administration, we have named sources coming forward regarding the Seth Rich story.
FLASHBACK – KIMDOTCOM & WIKILEAKS
Such as KimDotCom, who in December of 2014, was already warning that he was "Hillary's worst nightmare in 2016!," via a tweet dated December 1, 2014: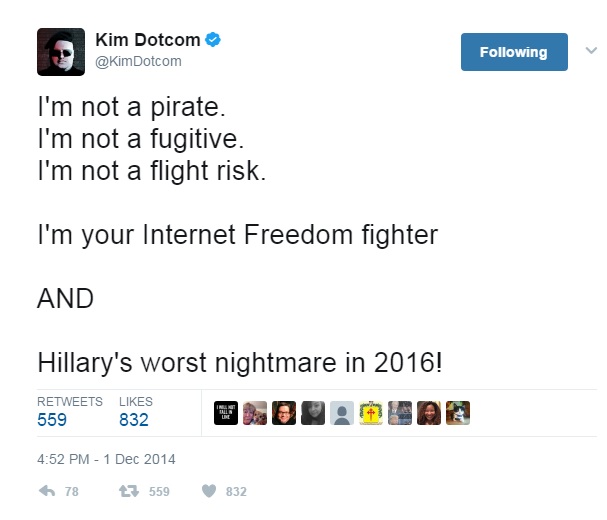 By May of 2015, Bloomberg also highlighted the fact that KimDotCom, had information that it would be Wikileaks founder Julian Assange that would be "Hillary Clinton's Worst Nightmare in 2016."
PRESENT DAY – KIMDOTCOM: I KNEW SETH RICH… I WAS INVOLVED
Those flashbacks are important because it shows he knew that Wikileaks had or would have information that would destroy Hillary Clinton and that he was invovled somehow, to which he has just reaffirmed, in a series of tweets from May 20, 2017, the same day Washington Post attempted to kill the story, where Kim asserts he knew Seth Rich, knew he was the source of the leaks, claimed that Kim himself was "involved," and is offering written testimony to Congress regarding it all.
Read More @ AllNewsPipeline.com
Help us spread the ANTIDOTE to corporate propaganda.

Please follow SGT Report on Twitter & help share the message.