by Wolf Richter, Wolf Street:
Santander, top subprime auto lender, verified income on only 8% of loans: Moody's.
"Liar loans" were a factor in the housing bust during the Financial Crisis that brought down the banks. Bank regulators now require lenders to verify income and employment of mortgage applicants and take other steps to make sure buyers can afford the mortgage payment. But in auto loans, no such requirement exists. So here we go again…
Moody's Investors Service analyzed $1 billion of Asset Backed Securities (ABS) backed by subprime auto loans that Santander Consumer USA Holdings, one of the largest subprime auto lenders, had issued. "Subprime" means the borrower has a credit score of 620 or below. Turns out, Santander had verified the income of the borrowers on only 8% of the subprime loans.
Moody's found other lapses, including loans with very low or no credit scores and no co-signer.
Back in February, Moody's had rated these subprime-auto-loan-backed securities as high as Aaa. Among the institutional investors that bought them was Massachusetts Mutual Life Insurance, according to Bloomberg.
Moody's contrasts Santander's lack of even basic due diligence, such as verifying income and employment, with an auto-loan based securitization issued by GM's finance subsidiary AmeriCredit. Moody's compared the two because they are the top issuers of subprime auto-loan ABS. Turns out, AmeriCredit had verified income on 64% of the loans in the securitization. Bloomberg:
Data tied to Santander show that it packaged riskier loans into bonds, as seen in higher loan-to-value ratios, longer maturities, more used cars, lower credit scores and a greater percentage of loans granted to borrowers whose incomes weren't verified, Moody's said.
The report said that the missing verification of income and employment "creates more uncertainty around whether borrowers will be able to afford their monthly payments, which becomes particularly important if they have poor credit records and risky loan terms."
Lacking income and employment verification compounds a problem that UBS had pointed out last week: about 20% of auto-loan borrowers had admitted on a survey that their loan applications contained inaccuracies. The report suggested that loan fraud could be a bigger problem than lenders are prepared for.
The UBS report also found that borrowers are getting better at manipulating up their credit scores via tactics they learned by Googling them. As a result, credit scores have been broadly rising, though actual credit risk may not have improved in parallel. Thus credit scores have become less reliable as a predictor of default, and auto lenders may have more risk in their portfolio than they think. The report warned: "Loan terms are stretched out, interest rates are aggressive, but there may be an over-reliance on credit scores, and that's the danger."
Moody's pointed out that the missing due diligence may be one reason for the higher loan losses experienced by Santander's securitizations.
So far, investors in these bonds have been protected against losses by an extra loan-loss buffer that Santander built into the bonds, Santander treasurer Andrew Kang told Bloomberg. Up to a certain point.
The findings by Moody's and UBS explain to some extent the surge in auto loans in recent years. The boom in debt, made possible with easy credit and loose underwriting standards, has funded record auto sales. Auto loan balances outstanding have soared nearly 60% since 2010, to $1.12 trillion: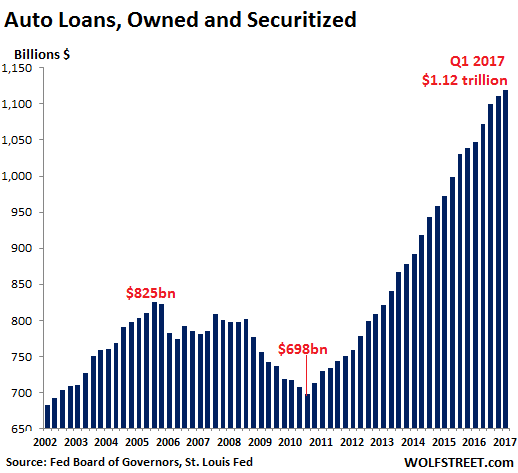 Help us spread the ANTIDOTE to corporate propaganda.

Please follow SGT Report on Twitter & help share the message.