by Marin Katusa, Katusa Research: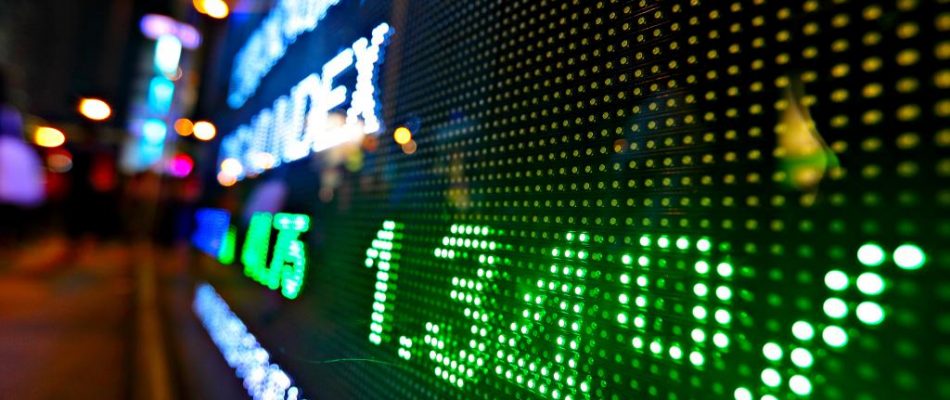 The creator of the wildly popular junior gold stock ETF has a 4 billion dollar problem.
Although the mainstream media is reporting on this big problem, it's missing the story's most important detail… one that could help you make large capital gains over the next 12 months.
I believe that very soon, a major issue with the junior gold stock ETF will create an opportunity to buy some of the world's most valuable junior gold companies for pennies on the dollar… all thanks to a coming tsunami of selling that has nothing to do with the companies themselves.
And it's all thanks to a developing story in the popular VanEck Junior Gold Miner ETF (symbol GDXJ).
expect the opportunity around the corner will be so big that I'm getting millions of dollars of my own money ready to deploy. You could say I'm "amassing troops at the border."
This situation is urgent. It's going to arrive quickly and play out quickly. And as I'll explain, what's coming in just a few short months may be the last great gold stock buying opportunity you get for a decade.
How ETFs Could Create a Big Gold Opportunity in Less than 2 Months
Over the past decade, ETFs have become one of the world's most popular investment vehicles.
Investors love idea behind ETFs: Buy and sell broad baskets of stocks with "one click" ease. This area of the market now holds over $2.5 trillion worth of assets.
One particular ETF, the VanEck Junior Gold Miners ETF (GDXJ), is a big hit with gold stock investors.
It's a one click way to buy a basket of small cap (aka "junior") gold exploration, development, and production companies.
Investors reckoned that by holding GDXJ, they get "juice" on the upside, but not the downside risk associated with owning just one or two gold juniors.
The chart below shows the growth in market capitalization for GDXJ. From January 2010 to May 2017, the market capitalization of GDXJ grew by 480%. At one point, the fund amassed more than $5 billion in assets.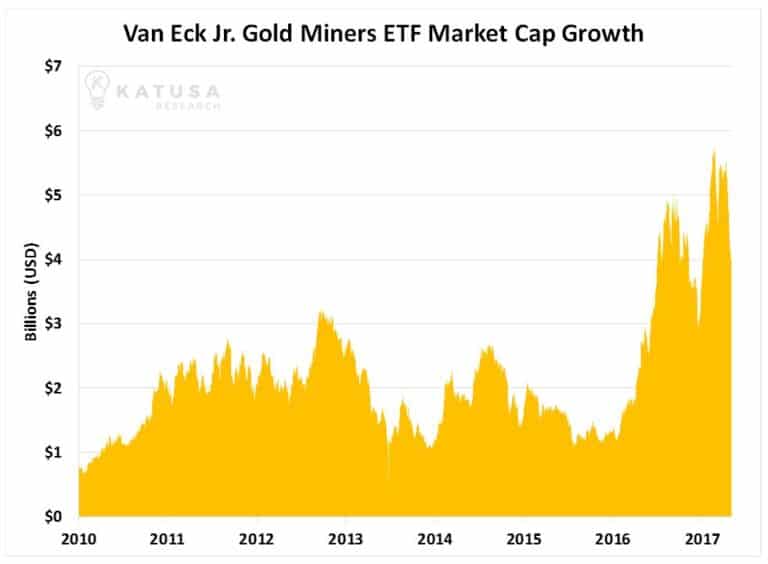 Believe or not, this tremendous growth is a problem for the ETF company…
GDXJ buys and sells companies according to changes in an underlying index created by VanEck called the MVIS Global Junior Gold Miners Index. The fund essentially mirrors the activity within the index fund, or at least it did until recently.
By definition, junior gold stocks don't have large market caps and their shares don't have tremendous trading liquidity.
GDXJ grew in popularity so much so that it had too much cash and not enough places to put it.
Many junior gold stocks are Canadian. As soon as an entity owns more than 20% of a Canadian-listed company ,regulations restrict its trading ability and make holding the position a general pain in the behind unless you are in it for the very long haul.
VanEck didn't want to own 20% of any gold stock.
So, it restricted itself to ownership stakes in individual names to "just" 19.9%.
This is important because it essentially caps how much VanEck can invest into each gold company… and would eventually cause it to run out of stocks to buy.
No sane financial firm will willingly turn down cash to manage and collect fees on. So, instead of leaving the cash on the sidelines, Van Eck used the cash to invest in companies with larger market caps, known as the mid-tiers.
GDXJ was created to give investors exposure to juniors, but because so much capital flowed in, the "Gold Junior ETF" became more of a "Gold Mid-Tier" ETF.
The GDXJ most notably began to deviate away from the index in September 2016 when it began purchasing shares in the large mid-tiers (+$1 billion market cap), while its underlying benchmark index MVIS Global Junior Gold Miners Index did not.
The MVIS Global Junior Gold Miners Index is set to be reviewed and rebalanced on June 9th 2017.
Read More @ KatusaResearch.com
Help us spread the ANTIDOTE to corporate propaganda.

Please follow SGT Report on Twitter & help share the message.