by Michael Snyder, End Of The American Dream: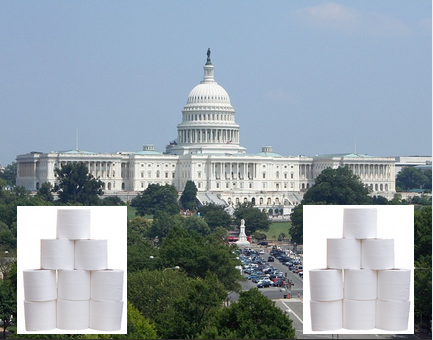 Is it fair to compare Congress to a toilet? If there is one institution that embodies the corruption that permeates Washington D.C., it is the United States Congress. Dominated by extremely selfish career politicians that are primarily interested in raising enough money to win the next election, Congress has become a cesspool of filth, fraud and malfeasance. The American people are absolutely sick of this, and that is why approval ratings for Congress are consistently much lower than for any other political institution. In fact, at this moment Congress has an average approval rating of just 18.3 percent according to Real Clear Politics. Donald Trump captured the imagination of tens of millions of American voters when he pledged to "drain the swamp" during the last election, but I say that it is time to "flush the toilet" because the only way that we will ever be able to turn the federal government in a positive direction is by clearing out as many of these Congress critters as possible.
Getting Donald Trump into the White House was the biggest political miracle in American history, but now his agenda is almost completely stalled and it is Congress that is to blame.
For example, Trump repeatedly pledged that he was going to build a "big, beautiful wall" along the southern border to combat illegal immigration, but at this point funding for that wall is being completely blocked.
What is the problem?
Congress.
Trump also pledged that Obamacare would be repealed very rapidly once he became president, but that obviously has not happened.
What is the problem?
Congress.
In fact, it is looking quite doubtful that a bill to repeal Obamacare will ever get through the U.S. Senate…
Senate Majority Leader Mitch McConnell (R-Ky.) is tempering expectations that the Senate will pass an overhaul of the nation's healthcare system, promising his colleagues a vote but not success.

McConnell in his public comments and private conversations about the ObamaCare repeal and replace bill is painting a more sober picture than Speaker Paul Ryan (R-Wis.), who in March guaranteed passage through the House.

McConnell is stopping well short of any grand pronouncement.
Trump also promised all of us that our taxes would be going way down, but even though the Republicans control both houses of Congress this also seems to be going nowhere fast. The following comes from the Wall Street Journal…
The GOP's dreams have collided with interest-group lobbying and the tax system's reality. Politicians all profess to hate the tax code, but they don't agree on exactly what they hate. Voters gripe about complexity but are wary of losing cherished breaks that are woven into the economy.

"Eventually you run out of ways to pay for your promises," said Alan Cole, an economist at the Tax Foundation, which favors a simpler code with lower rates. "There aren't any free obvious sources of money where you can just do the thing and nobody gets mad."
I could bring up a whole bunch of other issues such as the national debt, trade with China, unconstitutional government surveillance, etc. but I think that you get the point.
Read More @ EndOfTheAmericanDream.com
Help us spread the ANTIDOTE to corporate propaganda.

Please follow SGT Report on Twitter & help share the message.