by Wolf Richter, Wolf Street:
In the land of NIRP refugees and "Reverse Yankees," who will get crushed?
At the end of the week, something special happened, something totally absurd but part of the new normal: the average yield of euro-denominated junk bonds – the riskiest, non-investment-grade corporate bonds – dropped to the lowest level ever: 2.77%.
April 26 had marked another propitious date in the annals of the ECB's negative yield absurdity: the average euro-denominated junk bond yield had dropped below 3% for the first time ever.
By comparison, what is considered the most liquid and safe debt, the 10-year US Treasury, carries a yield of 2.33%; the 30-year Treasury yield hovers at 3%.
This chart of the BofA Merrill Lynch Euro High Yield Index (data via FRED, St. Louis Fed), shows just how crazy this has gotten in the Eurozone: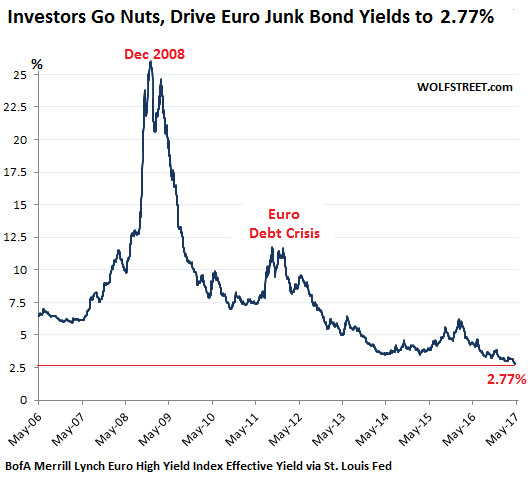 It's not like there's deflation in the Eurozone, despite rampant scaremongering about it. The official inflation rate in April was 1.9% for the 12-month period. As this chart shows, it's not likely to go away any time soon (via Trading Economics):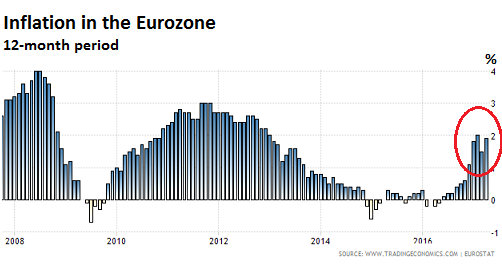 In other words, the average "real" junk bond yield (after inflation) according to the above two indices is now 0.87%. That's the return bond-buyers get as compensation for handing their money for years to come to non-investment grade corporations – as per an average of the ratings by Moody's, S&P, and Fitch – with an appreciable risks of default looming on the horizon.
Issuing junk bonds in euros is not just the prerogative of European companies. It includes issuance of junk-rated US companies that seek out this cheap money. "Reverse Yankees," as these bonds are called, have become a large factor in euro-bond issuance.
And investors that accept a "real" compensation of only 0.87% per year to deal with these risks – have they gone nuts? You bet.
The Wrath of Draghi.
As part of its now reduced €60 billion-a-month QE program, the ECB buys government bonds, "covered bonds," investment-grade corporate bonds, and asset-backed securities. It also cut its deposit rate to negative -0.40%. All of this with the explicit goal of driving up all asset prices and repressing all yields across the corporate and sovereign spectrum, from the best to the worst.
Help us spread the ANTIDOTE to corporate propaganda.

Please follow SGT Report on Twitter & help share the message.