by Michael Snyder, End Of The American Dream: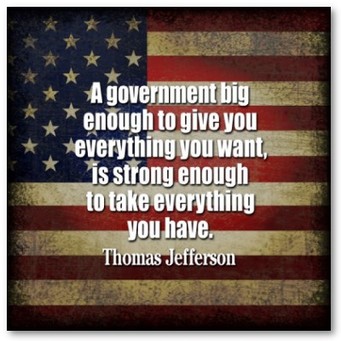 The constitutional republic that our founders intended to create has become a monster, and it is time to tame that monster and restore the federal government to its proper size and scope. The left loves big government, because it allows them to impose their progressive vision of how the world should work on all the rest of us. This is why so many control freaks are drawn to liberal politics like moths to a flame. Power and control are very addicting drugs, and those that crave these things on the left are never satisfied. That is one of the reasons why the federal government just keeps getting bigger and bigger and bigger. If our constitutional republic is going to survive, we have got to start putting the "limited" back in limited government.
Our forefathers tried to guarantee that the federal government would always be less powerful than the states by making the Tenth Amendment abundantly clear…
"The powers not delegated to the United States by the Constitution, nor prohibited by it to the States, are reserved to the States respectively, or to the people."
I don't see how anyone could possibly misunderstand that, but over the decades the left has worked very hard to make the Tenth Amendment as meaningless as possible.
If we want to see the Tenth Amendment restored, we are going to have to be willing to fight hard in the court system, in statehouses all over America, and in the halls of Congress.
And a good place for Congress to start would be to abolish the EPA. It is one of the federal agencies that is most wildly out of control, and fortunately there are a few good members of Congress that get this.
On February 3rd, U.S. Representative Matt Gaetz introduced a one sentence bill in the House of Representatives that would abolish the EPA at the end of next year…
Introduced by Rep. Matt Gaetz (R-FL1), H.R. 861 totals a mere one sentence: "The Environmental Protection Agency shall terminate on December 31, 2018." That's the same date of termination as another Republican bill to end the Education Department, which GovTrack Insider also recently covered. Gaetz is serving his first term in Congress and this is the first bill he's ever introduced.
Read More @ EndOfTheAmericanDream.com
Help us spread the ANTIDOTE to corporate propaganda.

Please follow SGT Report on Twitter & help share the message.