by Pam Martens and Russ Martens, Wall Street On Parade: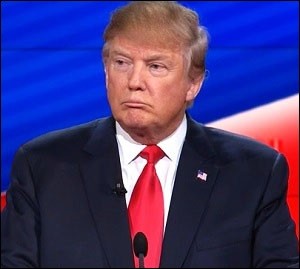 Yesterday, Bloomberg News reporters Jennifer Jacobs and Margaret Talev snagged an interview with President Donald Trump.
Headlines quickly spread that during the interview Trump had indicated he was looking at breaking up the biggest Wall Street banks (so that commercial banks holding taxpayer-backstopped deposits were no longer under the same ownership as the high-risk investment banks which had failed so spectacularly during the 2008 financial crash).
Bloomberg News has now released a transcript of the interview. The portion pertaining to the Wall Street banks reads as follows:
BLOOMBERG NEWS: Should we break up the big banks? Do you support that?
TRUMP: I'm looking at that right — I didn't know this one was going to be brought up. But we are looking at that.
There are — you know, some people that want to go back to the old system, right? So we're going to look at that. We're going to — we're looking at it right now as we speak.
And Dodd-Frank is — is going to be very, very seriously changed so the banks can go back to loaning money.
The "old system" that Trump is referring to is the legislation known as the Glass-Steagall Act. Congress passed the legislation on June 16, 1933 following a period of unprecedented commercial bank failures in the wake of the 1929 stock market crash. Many of the failures could be traced to the banks' involvement in trading activities on Wall Street using depositor funds. The legislation created Federal insurance on bank deposits to restore confidence in the nation's banks while also banning banks taking insured deposits from owning stock trading/underwriting firms. The U.S. financial system was safeguarded under this separation for 66 years until the Bill Clinton administration repealed the Act in 1999 with pressure from Citigroup.
While Citigroup's subsequent epic meltdown was the poster child for bank hubris in the 2008 crash, the Bank of United States assumed that role after the '29 crash. When Bank of United States collapsed in December 1930, it was the fourth largest depositor bank in New York City, holding $268 million for over 400,000 small time depositors. It constituted the largest banking collapse in the nation's history at that point.
The name of the bank, suggesting it had U.S. government backing, which it did not, fueled further bank panics when it closed its doors and locked out depositors. There was no Federal deposit insurance in place at that time.
Read More @ Wallstreetonparade.com
Help us spread the ANTIDOTE to corporate propaganda.

Please follow SGT Report on Twitter & help share the message.