by Susan Duclos, All News Pipeline: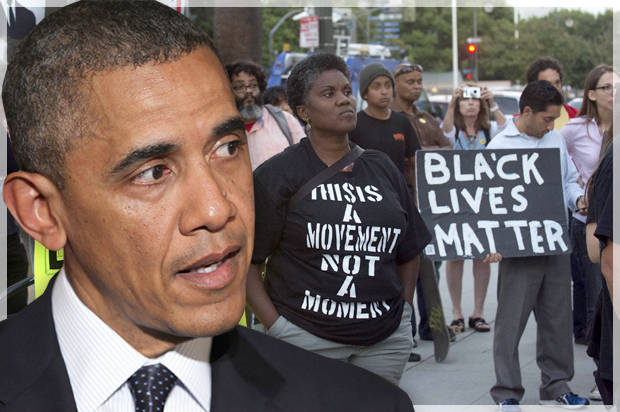 – They Couldn't Get Their Race War, So Now They Are Pushing Civil War
Since the election of President Trump we have seen the rise of communist, fascist groups claiming to be "anti-fascists," and self-proclaimed anarchist groups, rioting and terrorizing towns and college campuses, the most recent being Portland, Oregon, but what we haven't seen much of, or reports of, are Black Lives Matter protests that so often from 2013 to 2016, dominated the news, resulting in riots in Ferguson, Milwaukee, Baltimore, Charlotte, Oakland, and other cities across the U.S.
In fact, since Barack Obama left office, we have barely heard a thing from BLM in the news…..and it is not a coincidence.
A VICIOUS CYCLE
According to an internal FBI report marked "For Official Use Only," politicians, the establishment media and Black Lives Matter, and their "anti-police" rhetoric, is what drove and inspired the spike in cop killers in 2016. The four-page report by the Federal Bureau of Investigation, Office of Partner Engagement, titled "The Assailant Study – Mindsets and Behaviors," analyzed 50 incidents that occurred in 2016.
According to the report, 14 of the assailants were "inspired by social and/or political reasons believed that attacking police officers was their way to 'get justice' for those who had been, in their view, unjustly killed by law enforcement," and in two cases where police were assassinated the report states "the assailants said they were influenced by the Black Lives Matter movement."
On page three of the report we see the FBI detail contributing factors, where it was perceived as "socially acceptable to challenge and discredit the actions of law enforcement," and "This attitude was fueled by the narrative of police misconduct and excessive force perpetuated through politicians and the media."
Nearly every police offcial interviewed agreed that for the first time, law enforcement not only felt that their national political leaders publically stood against them, but also that the politicians' words and actions signified that disrespect to law enforcement was acceptable in the aftermath of the Brown shooting.(Page 3)
Also on page three, we see what started the vicious cycle:
Due to the coverage of the high-profile police incidents, it appears that immediately following the incidents, assailants were constantly exposed to a singular narrative by news organizations and social media of police misconduct and wrong-doing. In many cases, this singular narrative came from the subject's friends and family, and witnesses to the incident who often knew the subject, long before law enforcement provided their findings to the public. Without law enforcement and elected officials providing an alternative narrative, assailants developed a distrust of law enforcement, and felt emboldened and justified in using violence against police
Full FBI Report can be found at Washington Examiner.
It wasn't only the constant focus and one-sided reporting, but in some cases the outright "fake news" being pushed, which considering how CNN claims they are not "fake news" now, the image below shows just how culpable they truly are.
Who can forget the screen shot shown below with a CNN panel holding their hands in the air helping to perpetuate the "hands up, don't shoot" narrative that was later debunked by the DOJ, as witnesses changed their testimony and even recanted their original accounts.
Read More @ AllNewsPipeline.com
Help us spread the ANTIDOTE to corporate propaganda.

Please follow SGT Report on Twitter & help share the message.