by Pam Martens and Russ Martens, Wall Street On Parade: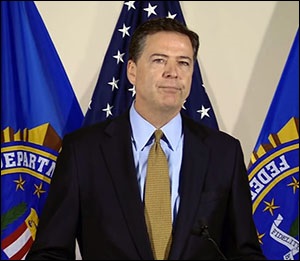 Both CNN and CBS News have now confirmed that a grand jury had been convened as part of the investigation into Trump campaign associates' ties to Russia prior to President Donald Trump firing FBI Director James Comey. CNN first reported the news last evening that the U.S. Attorney's office in Alexandria, Virginia had issued grand jury subpoenas in recent weeks to associates of former National Security Advisor Michael Flynn seeking business records.
CBS News confirmed the report this morning, adding that "the probe has been going forward aggressively." The convening of a grand jury is typically associated with a belief that criminal activity may have occurred.
President Trump has come under withering criticism last night and today for firing the head of the FBI while the agency was conducting an active investigation of people close to the President.
Why the President decided to fire Comey at this moment in time has been the source of much speculation by major media outlets. The fact that the investigation had moved into more serious territory has become a growing narrative. Receiving less media attention is the testimony that Comey delivered before the Senate Judiciary Committee last Wednesday. That testimony may have set off alarm bells in the White House.
In one exchange with Senator Richard Blumenthal, Comey refused to clarify that President Trump was not a target of the investigation. The exchange was as follows:
Blumenthal: But as a former prosecutor, you know that when there's an investigation into several potentially culpable individuals, the evidence from those individuals and the investigation can lead to others. Correct?
Comey: Correct. We're always open-minded about — and we follow the evidence wherever it takes us.
Blumenthal: So potentially, the President of the United States could be a target of your ongoing investigation into the Trump campaign's involvement with Russian interference in our election. Correct?
Comey: I just worry — I don't want to answer that. That seems to be unfair speculation. We will follow the evidence. We'll try and find as much as we can and we'll follow the evidence wherever it leads.
In another exchange with Senator Amy Klocuchar, Comey let it slip that specific members of Congress already knew the identities of the Trump campaign individuals who were targets of his Russian investigation. Senator Klocuchar asked Comey to commit to providing a "full and timely briefing" to the relevant Congressional committee on the investigation's findings. In response, Comey said the following:
Read More @ Wallstreetonparade.com
Help us spread the ANTIDOTE to corporate propaganda.

Please follow SGT Report on Twitter & help share the message.