by Pam Martens and Russ Martens, Wall St On Parade: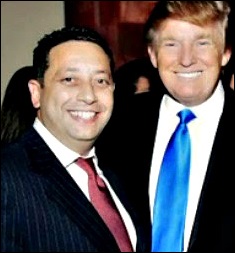 Six days after Zembla, a Dutch public broadcasting program, aired an investigation of U.S. President Donald Trump's business ties to Russian oligarchs and mobsters, Trump fired the man in possession of a great many more details on that matter: FBI Director James Comey. Next, Trump announced that his law firm, Morgan, Lewis & Bockius, was providing a "certified" letter stating that he had no business interests in Russia. (That law firm, as ABC News was quick to point out, was itself named "Russia Law Firm of the Year" in 2016 by Chambers & Partners.)
The Morgan, Lewis & Bockius letter was dismissed as meaningless by multiple tax experts since Trump could easily have investments with Russian partnerships and offshore entities. The letter pertained only to investments in which Trump is "sole or principal owner." These omitted minority partnership entanglements are precisely what the Dutch documentary explored.
From last Tuesday evening, when the news first broke that President Donald Trump had fired Comey, CNN has called in more than a dozen experts on everything from constitutional law to national security to Watergate to parse each utterance from the President in his Tweets or TV news interviews on the Comey matter. This mind-numbing, week-long repetition resulted in absolutely nothing that one could call substantive in terms of advancing the American public's knowledge of the President's longstanding and labyrinthine ties to Russian oligarchs and mobsters. In fact, it has clouded the real question that the Congressional Intelligence Committees and the FBI should be asking.
The critical question is not whether Trump campaign associates colluded with Russia in the 2016 presidential election. That's an important peripheral question but pales in comparison to the overarching question, which is: does Donald Trump have a long term business history with Russian criminal elements which renders him a national security risk to the United States.
On May 3, Dutch public television drilled down to this core question in a breathtaking documentary titled: The Dubious Friends of Donald Trump: the Russians. An economic investigator, James Henry, who has looked deeply into Trump's Russian ties, is interviewed in the documentary. According to Henry, since Donald Trump's bankruptcies in the 1990s, Trump has become dependent on "shady" cash flows. "The only way that he was able to finance his resurrection after 2000," says Henry, "was a torrent of money flowing out of Russia and former Soviet Union countries like Kazakhstan. The investors that he got at that point were looking for safe havens, or opportunities to launder money that were proceeds from basically criminal enterprises."
Read More @ WallStOnParade.com
Help us spread the ANTIDOTE to corporate propaganda.

Please follow SGT Report on Twitter & help share the message.