by Stefan Stanford, All News Pipeline: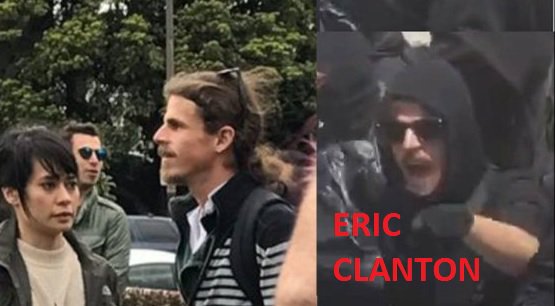 – Evidence Found Include Antifa Paraphernalia And 'Selfies' Clanton Took In Clothes He Wore During U-Lock Attacks
In an update to a recent ANP article titled "Berkeley Antifa Professor Arrested After 4chan 'Trolls' Unmask Radical Thug – Next Project: Seth Rich Murder," we have the criminal complaint filed against the Antifa Berkeley Professor, Eric Clanton, which shows he is charged with four counts of felony assault with a deadly weapon, and one misdemeanor charge of wearing mask to evade identification in the commission of a crime, but it is in the penal codes listed in the complaint, that shows the state is attempting to set up consecutive terms of imprisonment if convicted in a court of law.
THE COMPLAINT
First we have embedded the complaint below, then we will go through the California penal codes listed within the complaint, as well as the evidence found while implementing their search warrant.
Clanton Complaint and PC Dec by Susan Duclos on Scribd
All four counts of assault with a deadly weapon stem from the April 15, 2017 protest in Berkeley, with the first count naming Sean Stiles, which was the most highly publicized at the time since the attack was captured on camera, showing the U-Lock bike lock hitting Stiles in the head, and the after math until stiles was taken in for medical treatment.
The next named victim of another attack on the same day, was a Mr. Frank Carcich, and the two others listed as John Doe 1 & 2, all four attacked with a ULock bike lock in April 15, 2017.
In the first count they call it a violation of California penal code 245(a)(1), with other penal codes that were violated under the Spec Alleg- Great Bodily Injury as to defendant Eric Michael Clanton, listed as 12022.7(a) causing the above offense to become a serious felony within the meaning of penal code section 1192.7(c)(8). Listed under *Special Notice* the complain reads "This offense is a serious felony and a violent felony within the meaning of 1192.7(c)(8) and 667.5(c)(8).
*** 245. (a) (1) Any person who commits an assault upon the person of another with a deadly weapon or instrument other than a firearm shall be punished by imprisonment in the state prison for two, three, or four years, or in a county jail for not exceeding one year, or by a fine not exceeding ten thousand dollars ($10,000), or by both the fine and imprisonment.
Read More @ AllNewsPipeline.com
Help us spread the ANTIDOTE to corporate propaganda.

Please follow SGT Report on Twitter & help share the message.