by Pam Martens and Russ Martens, Wall Street On Parade: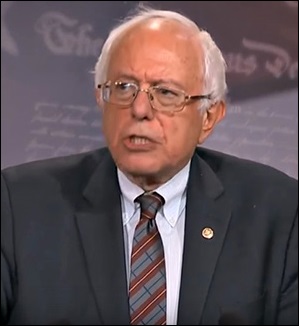 It became clear yesterday why President Donald Trump needed thousands of miles between himself and Washington D.C. when his administration dropped its budget proposal on the American people. It immediately drew sharply negative reactions from both sides of the aisle and outright ridicule from mainstream media.
Max Ehrenfreund, writing for the Washington Post, said the promise that the Trump budget would balance federal finances in a decade was based on "vague savings and unspecified sources of new revenue" consisting of over $2 trillion in "mystery money."
Jonathan Chait at New York Magazine said Trump's budget assumptions contain a "$2 trillion basic arithmetic error" that is just downright "embarrassing."
Anger among Democratic leaders over the budget's attack on Americans that are least able to sustain more financial pain boiled over on Capitol Hill yesterday. Senator Bernie Sanders, the Ranking Member of the Senate Budget Committee and two of his colleagues on the Committee, Senators Debbie Stabenow and Jeff Merkley, joined with Senate Minority Leader Chuck Schumer at a press conference to assail the brutal cuts to programs for rural America, the middle class and working poor.
Just hours before President Trump was to meet with the Pope at the Vatican, Senator Sanders called Trump's budget "immoral." Sanders said:
"What this budget amounts to is an unprecedented transfer of the United States from the middle class and working families to the very, very wealthiest people in this country. Listen to this: by repealing the estate tax, the Walton family worth $130 billion will get up to a $53 billion tax break at the same time that this budget will drive children off of the children's health insurance program; deny millions of people the health care they desperately need; make it harder for working class kids to go to college; slash environmental protections.
"So what we are seeing is unprecedented tax breaks for the people who don't need it and devastating cuts for programs that the middle class, working families and lower income people do need.
"This is a budget that is bad economics, it is immoral, it is a budget that the American people will reject. And it is a budget that must not see the light of day in Congress."
Senators Stabenow and Merkley said the budget proposal would be devastating to rural America – ironically a geographic area that voted heavily for Trump. Merkley was strident in his assessment, stating:
Read More @ Wallstreetonparade.com
Help us spread the ANTIDOTE to corporate propaganda.

Please follow SGT Report on Twitter & help share the message.