by Wolf Richter, Wolf Street:
A stock or bond market tantrum might stop the Fed in its tracks. But the opposite is happening.
The US Treasury 3-month yield rose to 0.94% by late Thursday, the highest since September 2008. It reflects how the market views the Fed's next action – to be announced after its meeting on June 14. The short-term Treasury market is attempting to read every quiver of the Fed's lips, what Fed governors are saying on their speaking circuits, the minutes from prior meetings, and so on. And it sees a large probability of a rate hike on June 14: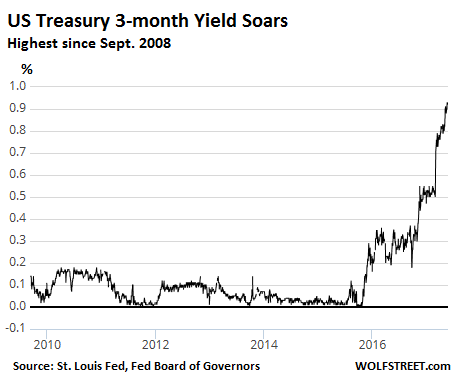 This would mean that the FOMC nudges up its target for the federal funds rate by a quarter point, to a range of 1.0% to 1.25%. It would be the third rate hike since the election in November, one hike every other meeting.
Even one of the most dovish Fed Governors, Lael Brainard, said during a panel discussion yesterday that a brighter outlook for the global economy has shifted the risk balance for the US economy. These words are the kinds of signals the bond market feeds on.
And the minutes from the last FOMC meeting show that unwinding QE and trimming down the Fed's $4.5 trillion balance sheet is moving closer to reality. QE was designed to drive up asset prices and bring down long-term yields, including mortgage rates. Now the opposite is being planned.
Currently, the Fed replaces securities on its balance sheet as they mature. So every few days, it buys Treasuries and mortgage-backed securities. Now the Fed is getting into the nitty-gritty of how it will trim down its balance sheet. The "staff" is working on it and gave a presentation on the "possible operational approach" at the last meeting.
The Fed would allow maturing bonds to roll off the balance sheet without replacement. But there would be "caps" to how much per month would be allowed to roll off so that the pace by which the balance sheet shrinks is "gradual and predictable," according to the minutes. The caps would "increase" over time, and the draw-down would pick up speed. After this phase-in period, "the final values of the caps would then be maintained until the size of the balance sheet was normalized."
Help us spread the ANTIDOTE to corporate propaganda.

Please follow SGT Report on Twitter & help share the message.