by Michael Snyder, End Of The American Dream: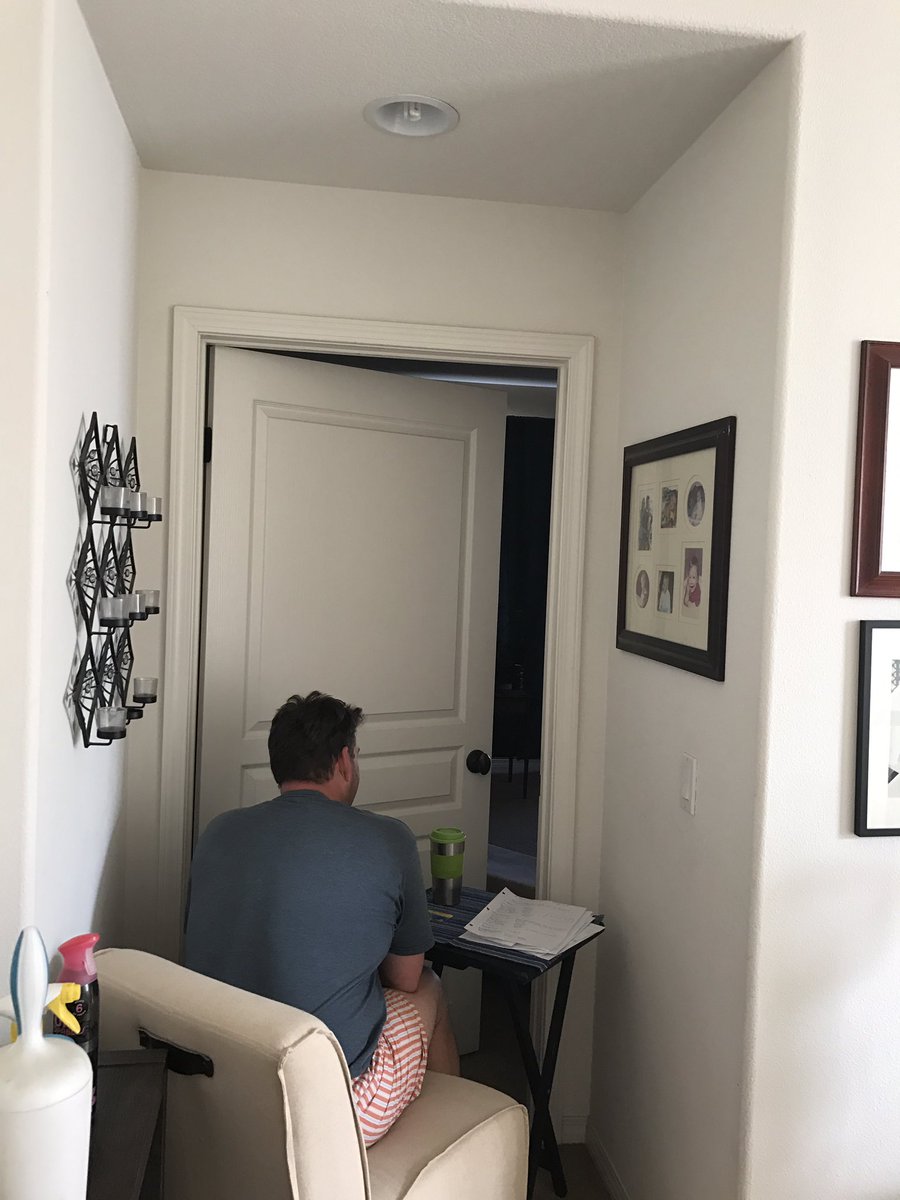 How far would you go to support someone that you love during a life or death battle with cancer? What one husband decided to do while his wife was in a period of strict isolation during her radiation treatment is going viral all over the Internet. Last October, Marci Newman was diagnosed with thyroid cancer, and anyone that has ever had thyroid cancer can tell you how excruciating the treatments can be. She was forced to spend last week in isolation in her bedroom due to another round of radiation treatment, and her husband Jon decided to show his support by setting up a desk right outside of the door to her room. Their 17-year-old daughter MacKenna was so touched by this gesture that she posted a photograph of her father sitting at this desk on Twitter along with the following message…
"My mom has to stay in her room in isolation for her cancer radiation so my dad set up a desk at her door to keep her company and I'm crying"
There is so much bad news in the world today, and so a story like this that reminds all of us that there are still people out there that are willing to do extraordinary things for the people that they love is extremely refreshing.
My mom has to stay in her room in isolation for her cancer radiation so my dad set up a desk at her door to keep her company and I'm crying pic.twitter.com/rucH9HfDvk

— kenna (@mackenna_newman) April 14, 2017
At this point, MacKenna's photo and message have been retweeted more than 7,000 times and liked more than 9,000 times.
And it isn't as if Jon just sat outside Marci's door for a few minutes and then went back to whatever he was doing. According to the Independent, he has been constantly outside Marci's door and has been going with her to every medical appointment…
Mackenna said her dad stayed outside her mother's room "the entire time", and Marci said that this is not unusual for Jon:

"Jon goes to every doctor's appointment, every blood test, every surgery, every radiation. And as you can see, if he can't be by my side he is as close as he can get".
This is what love is all about. As I am going to be discussing in my new book that will be released later this summer, true love is a decision that is backed up by consistent action. Even if Jon never said anything about how much he loves Marci, everyone would be able to see it through his actions.
Unfortunately, so many couples today are having to deal with cancer, because cancer rates in the United States have been absolutely exploding.
If you are an American, there is a one in three chance that you will develop cancer at some point in your life.
And if you are male, there is about a one in two chance that you will develop some form of cancer.
We have come to accept this raging epidemic as "normal", but in the old days things were much different. In fact, back in the 1940s only one out of every sixteen Americans would develop cancer, and in the 1970s it was just one out of every ten.
Read More @ EndOfTheAmericanDream.com
Help us spread the ANTIDOTE to corporate propaganda.

Please follow SGT Report on Twitter & help share the message.