by Jeff Berwick, The Dollar Vigilante:
've never understood airlines overbooking their flights. What other industry does that?
"Hi, I'm here to pick up the painting I bought from you online."
"Oh, there are two other people here who bought it too. I guess I sold it too many times, sorry. I'll just have some armed men escort you out!"
It sounds crazy, right? But, when it comes to airlines it happens all the time.
In any case, it happened again yesterday in the USSA, but this time it got violent.
Things were already bad enough in the fasco-communist land of the free when it comes to flying. After the 9/11 false flag attack to roll out the War of Terror, flying in the US has become akin to being in a maximum security prison, complete with being raped by the child molesters who work for the TSA to get the full Black is the New Orange experience.
And, worst of all, the very same group that was responsible for 9/11 (the people who control the US government) are the ones now "helping" to make air travel more secure!
And, worse, another useless, oppressive, communist style central planning agency, the FAA, makes thousands of inane rules meant to destroy the free market.
And, so, when one extra person above what is allowed by the FAA was on a large airplane with over a hundred other people, FAA rules stipulated that someone would have to get off the plane.
You see, in a free market, the airline would probably decide that since it was causing such a ruckus, it would ask for a volunteer, or a couple, to have one sit on the other's lap for take-off and landing… or just have someone sit in the cockpit with the pilots. Or any number of other creative solutions to a minor problem.
In the free market, it would have been resolved in a matter of moments, and everyone would have laughed and cheered as they found an easy way around the problem. Life in a truly anarchist free market would be one of laughter, joy, and prosperity on a regular basis.
Not in the land of the free, though! In the land of the free, MUST FOLLOW RULES!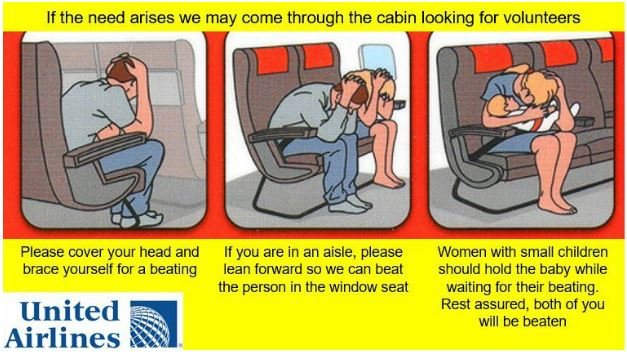 And so, United Airlines made a death threat against one of their passengers for not leaving their airplane, instead.
Yes, every time you call the government/police to force someone to do something, you are, in effect saying, "If you don't get off the plane we'll kill you!"
But, in fasco-communist USSA, nearly everyone is brainwashed to believe that all problems should be fixed with death threats and not by the two parties working things out amicably on their own.
And, worse, government enforcers came on the plane to threaten the man's life… and the man obviously did feel that his life was in danger after he was beaten so badly because he even asked the "enforcers" just to kill him.
Not one person on the plane was courageous enough to stand up to these government enforcers beating up a man. Yes, in the land of the brave, no one is brave enough to stand up to their slave master.
So, everyone took out their phones and just recorded the man being beaten. Which, is the second best thing you can do, as at least then people are aware of what is going on.
And, that is what happened. Then the free market, or capitalism, as it always valiantly does, sprung into action and immediately exacted a punishment to United Airlines. Many people decided to boycott United, and it's stock initially fell in value around 4.3% or around $1 billion.
Although the price recovered from that point, it is still down around 1%
Read More @ TheDollarVigilante.com
Help us spread the ANTIDOTE to corporate propaganda.

Please follow SGT Report on Twitter & help share the message.