by Wolf Richter, Wolf Street:
Those who lost out on the Fed's "wealth effect."
Here's a mystery: Has this "wealth-effect" economy that the Fed so beautifully engineered since the Financial Crisis gotten a lot riskier, scarier, and uglier in some profound ways for lower-income Americans, those making $30,000 or less a year?
One of the questions that Gallup posed was this:
Next, I'm going to read a list of problems facing the country. For each one, please tell me if you personally worry about this problem a great deal, a fair amount, only a little, or not at all? First, how much do you personally worry about –
Then came 13 issues, including "hunger and homelessness."
Turns out, among Americans making $30,000 or less a year, 67% worry "a great deal" about hunger and homelessness! Food and shelter, two of the most basic human needs. That's the highest percentage ever in Gallup's data series on this question going back to 2001.
It's up from 52% in 2001/2004; up from 56% in 2007/2008; and up from 51% in 2010/2011.
Median annual household income in February was $58,714, according to Sentier Research. On an inflation-adjusted basis, this was about flat with February 2016 and below February 2000. Median income means 50% make more and 50% make less. Other studies have shown that incomes have risen sharply at the upper end of the spectrum, but have fallen at the lower end, with the gap widening. Thus the median might have stagnated, but for many of those below the median, things haven't turned out so well. And there are a lot of them!
With the prices of stocks, homes, art, classic cars, commercial real estate, and the like inflated to dizzying heights after eight years of radical monetary policies, why would these folks, making $30,000 or less – worry more than ever about such basic and dreadful conditions?
More on that in a moment. There are other elements in this mystery: Even among people making $30,000 to $75,000, a record 47% worry "a great deal" about hunger and homelessness, up from 40% in 2010-2011. And even among high-income Americans, the percentage, though small, has risen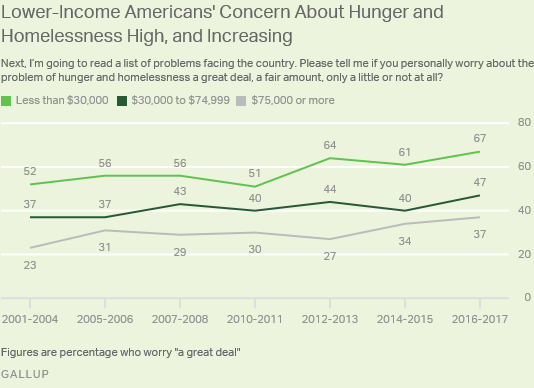 Rising worries about hunger and homelessness can have a number of causes, including media coverage of those topics, or coverage of rising income and wealth inequality in America. In its survey report, Gallup points out that occasionally, when something terrible happens, such as 9/11, it might be "dominating the national consciousness," and hunger and homelessness recede as primary concerns.
Help us spread the ANTIDOTE to corporate propaganda.

Please follow SGT Report on Twitter & help share the message.