by Susan Duclos, All News Pipeline: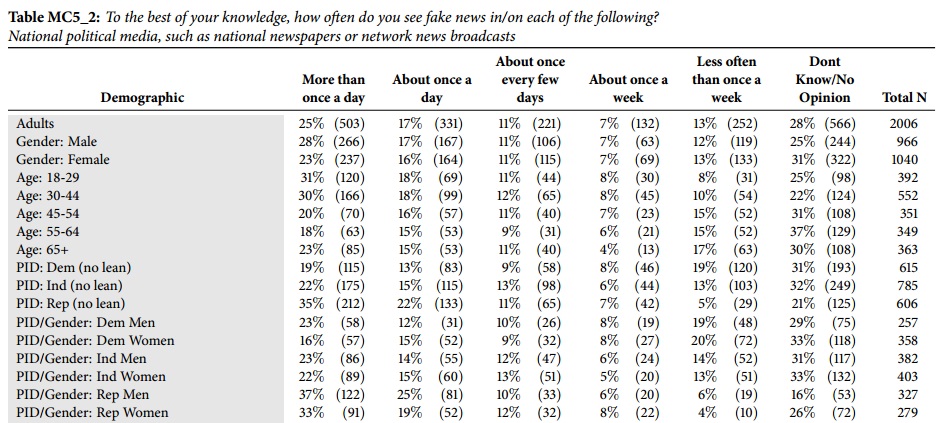 The Morning Consult conducted an in depth poll of over 2,000 adults between April 25 and April 26, 2017, and the results are brutal for the mainstream establishment media, which may be why they have either not reported it, or have downplayed it and moved along to another topic as fast as their little fingers could type.
BY THE NUMBERS
The survey results are astounding in what they tell us about how the MSM is perceived, whether they are reporting "fairly" on President Trump's administration (the majority says no), and whether they can be "trusted" in what they are reporting, as well as 51 percent of American adults believing the MSM is "out of touch with everyday Americans," with only 28 percent saying "national political media understands the issues everyday Americans are facing." (Page 39)
The stunner which isn't reported until toward the end of the Morning Consult article on the poll, is that 73 percent of American adults see "fake news" reported by by the "national political media, such as national newspapers or network news broadcasts."
The break down is almost as important as the numbers themselves as 25 percent see "fake news" in the MSM more than once a day, 17 percent seeing it "about once a day," 11 percent say "about once every few days," 7 percent say "about once a week," and 13 percent "less often than once a week." (Page 21)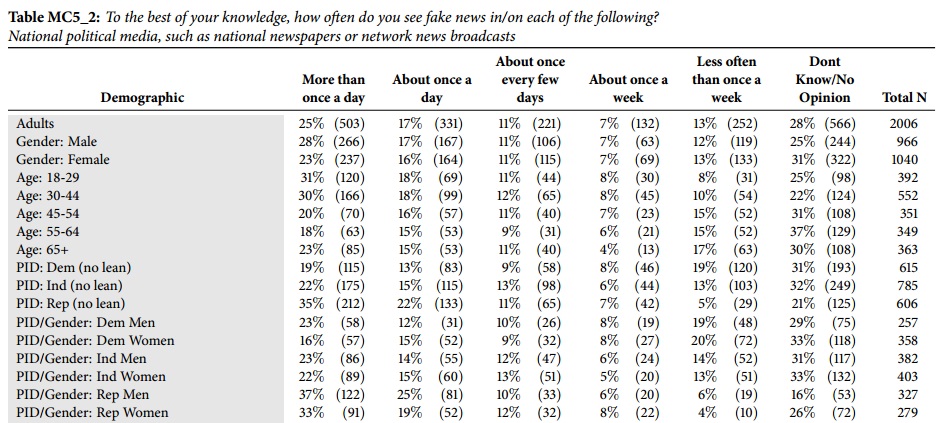 Just as interesting, considering we have seen the MSM run on non-stop about "social media" and fake news, 75 percent of American adults noting "fake news" on social media such as Fakebook and Twitter. (Page 18)
With a margin of error of plus or minus 2 percentage points, that Americans see the MSM in a statistical tie with social media on offering "fake news," blows their whole argument of "fake news influenced the election" right out of the water. Since social media platforms offer links to news from all over the web, including MSM links, the data does not bode well for establishment media.
Another interesting set of statistics in this Morning Consult poll is that while a majority of Americans tend to think search engines, and social media, are responsible for ensuring the public doesn't see "fake news," an even higher majority believe it is "the person reading the news," that is more responsible for doing their own due diligence in ensuring the veracity of the news. ([Page 36)
Last but not least, more Americans trust the Trump administration to tell them the truth than they do the media, 37 to 29 percent. While the Morning Consult calls that "slightly more," in polling and elections, the MSM would be calling a 8 percentage point lead a "landslide."
The break down on that is highly interesting as well, with 74 percent of Republicans trusting President Trump more than the media, but only 54 percent of Democrats trusting the media more than the White House. The partisan break down is to be expected, so it comes down to the Independents, which shows that "more than half saying they didn't trust national news outlets to cover the White House fairly and that they trusted Trump more."
Full poll results, including three page demographic break downs per question, in their 48 page PDF.
THE AWAKENING MASSES
Frankly while the numbers show how little confidence the public has in the MSM now, it is those last two points mentioned above, which are the most critical. For decades the MSM has held a stranglehold on telling their audience what they should be paying attention to, what they think, basically controlling them and the narrative, and influencing them, and during the 2016 election they realized one critical point…. those days are gone.
Which is we have seen unintended truths come out of media personalities mouths, such as when MSNBC's Mika Brzezinski said on air that President Trump was undermining the media's message and able to "control exactly what people think," before saying "That is the, that is our job."
Read More @ AllNewsPipeline.com
Help us spread the ANTIDOTE to corporate propaganda.

Please follow SGT Report on Twitter & help share the message.