by Michael Snyder, End Of The American Dream: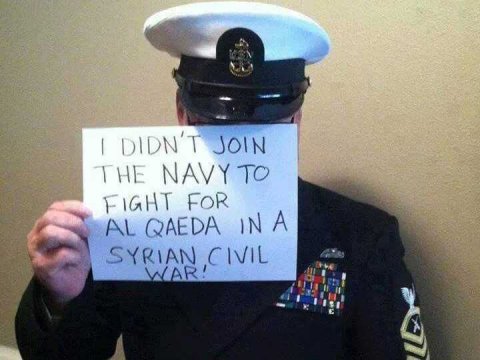 We are closer to the start of World War III than we have been in decades. In part 3 of this series of articles, I discussed the fact that President Trump's team was preparing a "military response" in Syria and that a "coalition" is being formed to remove Syrian President Bashar al-Assad from power. Well, as I am writing this article the missiles have started flying. Cruise missiles from a U.S. Navy vessel in the Mediterranean Sea have hit multiple targets inside Syria, and many fear that what we have just witnessed could be the beginning of a broader conflict.
Trump should not have done this, because according to the U.S. Constitution the president needs the approval of Congress to go to war. Fortunately there are still a few members of Congress that still care about the Constitution and that are bold enough to point out this fact. One of those members of Congress is U.S. Senator Rand Paul…
Earlier on Thursday, Senator Rand Paul (R-Kentucky) announced he would oppose any military action without a vote in Congress.

"The President, if he decides to do something in Syria, he would come to Congress and ask for a declaration of war. Short of Congress voting on it, I'm opposed to illegal and unconstitutional wars," Paul told Fox News radio show 'Kilmeade and Friends'.
Now that the missiles have started flying, it may be too late to stop this war from happening.
But that does not mean that we shouldn't try to stop it. Now is the time to raise our voices and to let Donald Trump know that we do not want this war.
And what is especially tragic about all of this is that Donald Trump is taking us to war because of a misunderstanding. Rand Paul's father, former presidential candidate Ron Paul, is among many that believe that there was "zero chance" that Assad would have deliberately used chemical weapons against those innocent people…
Pointing out that the prospect of peace in Syria was moving closer before the attack, with ISIS and Al-Qaeda on the run, Paul said the attack made no sense.

"It looks like maybe somebody didn't like that so there had to be an episode," said Paul, asking, "who benefits?"

"It doesn't make any sense for Assad under these conditions to all of a sudden use poison gases – I think there's zero chance he would have done this deliberately," said Paul.
As I discussed in part 1 of this series, the incident in Syria's Idlib province on Tuesday was almost certainly a false flag attack that was designed to pull the United States and other western powers into the war.
Read More @ EndOfTheAmericanDream.com
Help us spread the ANTIDOTE to corporate propaganda.

Please follow SGT Report on Twitter & help share the message.