by David Stockman, DailyReckoning: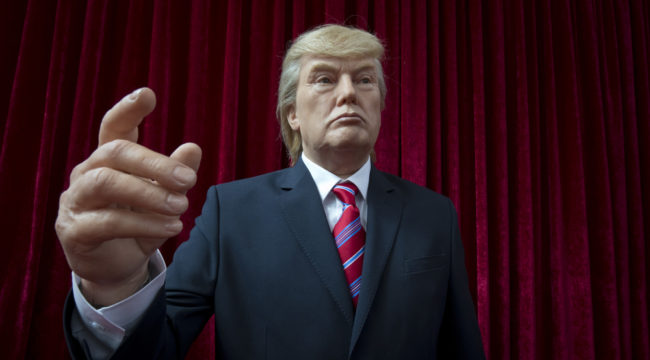 The Donald's emerging incapacity for even a semblance of normal governance might as well be called a Gong Show, and one that only get crazier by the day.
Take the most recent so-called gas attack in Syria and the Trump Administration's seeming 180 pivot within just seven days.
This reversal is typical of the Donald and at the heart of why he will never govern effectively.
Just last weekend, for example, he began arguing publicly that it was his idea to pull the Obamacare repeal and replace bill. Actually, it was his inner circle, lead by Steve Bannon, who marched up to Capitol Hill on Thursday night and decreed that all negotiations and tweaking were over and that there should be an up or down vote on Friday afternoon, ready or not.
As far as I can tell, the Donald relented only at the last minute Friday afternoon when Speaker Ryan got down on one knee in the Oval Office to beg Trump's agreement to pull a bill that was going down by 40-50 votes or more.
What I'm saying is that whirling dervish cannot lead or make anything happen amidst the checks and balances ridden contraption that the founders created. And the interest groups have wrapped their money-spewing tentacles all around both ends of Pennsylvania Avenue.
So the Syrian spectacle is just par for the course.
Last week Trump's Secretary of State properly announced that "regime change" in Syria is over and that the Assad government can stay.
After all, in the scale of things the threat of the murderous Sunni jihadists — whether ISIS, Nusra Front or a dozen more like minded butchers — is infinitely more serious than the harsh, despotic regime of Bashar Assad.
Whether he goes or stays is none of America's business, of course, but he did attain power through constitutionally valid means and does maintain a secular state that includes numerous minorities including Christians in addition to his own Alawite (Shiite) tribe.
Even Trump's hawkish, foreign policy-illiterate ambassador to the U.N. was seemingly on board. Said former South Carolina governor and ex-bookkeeper for her mother's mail order business, Nikki Haley:
You pick and choose your battles and when we're looking at this, it's about changing up priorities and our priority is no longer to sit there and focus on getting Assad out…

Do we think he's a hindrance? Yes. Are we going to sit there and focus on getting him out? No…
We can't necessarily focus on Assad the way that the previous administration did… Our priority is to really look at how do we get things done, who do we need to work with to really make a difference for the people in Syria.
So do you think the increasingly imperiled jihadist rebels in Syria might have one more go at the old "false flag" routine to change the tide of events?
That is, like the one they pulled off back in August 2013 and blamed on Assad, when the independent evidence, including an in-depth investigation by the intrepid Seymour Hersh, points overwhelmingly to jihadi terrorists funded by Saudi Prince Bandar.
Then again, in light of its freshly announced hands-off policy you might have thought the Trump Administration would take a few days to investigate in order to get the facts straight and assess culpability?
Well, no.
At least not if you are one of the neocon NeverTrump moles who have proliferated in the Donald's administration. I refer, of course, Nikki Haley, who turned on a dime, exhibiting no compunction whatsoever about reading straight from the playbook that Obama's hatchet lady, Samantha Powers, left behind when she vacated her U.N. office:
Read More @ DailyReckoning.com
Help us spread the ANTIDOTE to corporate propaganda.

Please follow SGT Report on Twitter & help share the message.