by Michael Snyder, End Of The American Dream: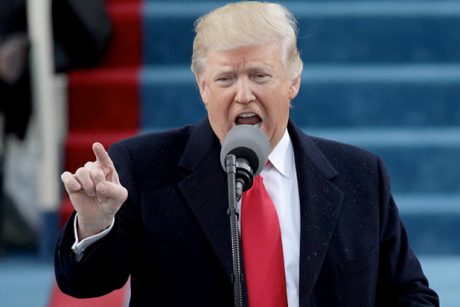 Donald Trump is making the exact same tragic mistake that other prominent leaders have made in the past. You never, ever, ever go to war with your own people. Yes, you may have some very serious disagreements with your own team sometimes, but you never go to war with them. When Trump openly declared war on the Freedom Caucus, he immediately lost the support of millions of conservatives. And now Trump is going to have a tremendously difficult time getting anything on his agenda through Congress, because without Freedom Caucus votes the Democrats will be able to block just about everything that Trump wants to do.
Yes, I understand that Trump is upset because his healthcare legislation failed. But instead of getting angry and lashing out at the people that should be his closest allies in Congress, perhaps he should take another look at the bill.
The truth is that it was called "Obamacare Lite" for a reason. It was an absolute nightmare of a bill, and conservatives all over the nation were united in their opposition of it.
When you are a leader, sometimes you have to be willing to admit that you were wrong.
Unfortunately, Donald Trump is not very good at admitting when he is not right about something.
Instead of the path of humility, Trump has decided to go to war with the Freedom Caucus. On Friday, Trump actually posted a tweet that urged his supporters to "fight" the Freedom Caucus during the election of 2018…
"The Freedom Caucus will hurt the entire Republican agenda if they don't get on the team, & fast. We must fight them, & Dems, in 2018!"
No, conservatives will definitely not be attempting to remove the best members of Congress in 2018. For Trump to even suggest this is absolute madness.
Trump desperately needs friends in Congress, and the members of the Freedom Caucus could be his best friends if he would just work with them.
But instead he is deeply alienating them, and after Trump's tweet on Friday a couple members of the Freedom Caucus struck back at him. One of them was U.S. Representative Thomas Massie…
@realDonaldTrump it's a swamp not a hot tub. We both came here to drain it. #SwampCare polls 17%. Sad!
Another member of the Freedom Caucus that fired back at Trump was U.S. Representative Justin Amash…
It didn't take long for the swamp to drain @realDonaldTrump. No shame, Mr. President. Almost everyone succumbs to the D.C. Establishment.
What in the world is Trump hoping to accomplish by feuding with these conservatives?
If Trump wants to repeal Obamacare, he should just push the same clean repeal bill that was passed by the House right near the end of Obama's time in office.
During the campaign season, Trump's desire to fight with everyone ended up working for him, but in Washington you are going to need some friends if you actually want to accomplish anything. The members of the Freedom Caucus would have supported more of Trump's agenda than any other group in the House of Representatives, but now he has gone to war with them.
I don't know if I have the words to describe the utter foolishness of that move.
But even after threatening to go after their jobs in the next election, some members of the Freedom Caucus are still being conciliatory. One of them is Idaho Congressman Raul Labrador…
@realDonaldTrump Freedom Caucus stood with u when others ran. Remember who your real friends are. We're trying to help u succeed.
Read More @ EndOfTheAmericanDream.com
Help us spread the ANTIDOTE to corporate propaganda.

Please follow SGT Report on Twitter & help share the message.