by Michael Snyder, End Of The American Dream: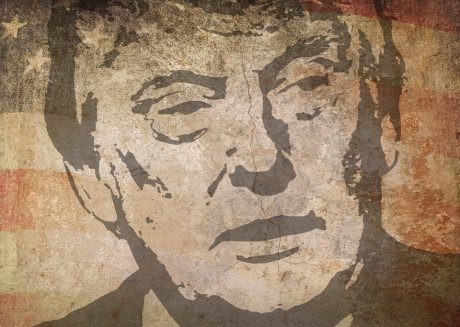 The election of Donald Trump has been the best thing that has ever happened to the Satanic Temple. Founded in 2013, this relatively new organization now boasts chapters all over the country, and over the past couple of months they have experienced a huge surge in membership. Recently the Los Angeles chapter held a full-blown Satanic mass that included "a live bloodletting ritual", but mostly it is the Satanic Temple's ultra-liberal politics and anti-Trump message that is fueling interest in the group.
Of course the Satanic Temple is not officially aligned with the Democratic Party, but without a doubt the organization is extremely opposed to everything that Donald Trump says that he stands for. The following comes from L.A. Weekly…
While the Satanic Temple doesn't align itself with any political parties, campaigns or candidates, the organization's goals are in staunch opposition to the Trump administration's crackdowns on reproductive health, freedom of the press and transgender rights. "We want First amendment [rights], we want women to have control of their bodies, and we want the LGBT community to have equal rights," Morrison says. "Obviously with Trump and Pence being in office and with the administration that's being put in place right now, we're probably looking at a more aggressive stance" than in previous years. He says membership in the organization surged after Trump was elected, with thousands of members now spread among dozens of chapters around the world.
Another article that I found had some more specific details. Prior to the election, the Satanic Temple had about 50,000 members, but once Trump won in November registrations and donations started to come in at a staggering pace…
The Satanic Temple attracted "thousands" of new members in just the first 36 hours after the election of Donald Trump, according to co-founder Lucien Greaves. The 4-year-old temple, which had a pre-Trump membership of around 50,000, has never before seen a spike in registration nearly this big.

"It's crazy," Greaves said after a speech in front of some adoring fans at CU-Boulder. The emails, registrations, donations and social media posts are pouring in faster than the temple can respond. "People have a desperate need for something to rally to right now."
At this point, membership in the group is somewhere around 100,000, but it continues to grow every day as their anti-Trump message resonates with young adults.
It surprises many people when they learn that the Satanic Temple does not actually promote belief in a literal being named Satan. Instead, they portray themselves as "justice-oriented atheists" that are promoting LGBT causes, climate change awareness, evolution in public schools and especially abortion rights…
Recently, the Satanic Temple, a non-theistic religious organization known for protesting Christian influence in the government, turned its attention to this attack on women's reproductive health, staging Satanic counter-protests at anti-abortion rallies and filing a lawsuit against the state of Missouri on behalf of one of their members who was forced to wait 72 hours to get an abortion due to the state's waiting period law.
Needless to say, their "values" line up perfectly with the millions upon millions of Americans out there that absolutely hate Donald Trump.
So if they don't actually believe in Satan, why call their organization the Satanic Temple?
This is how one of the co-founders of the group explained it…
"We decided that Satan was the ultimate rebel, and we realized the power of that symbol," says William Morrison, a co-founder of the Satanic Temple's L.A. chapter, which formed about a year ago and has held recruitment and advocacy meetings regularly ever since. He acknowledges that while the group's allegiance to Satan may give the wrong impression, it has also garnered them an outpouring of international media attention that they likely wouldn't have achieved otherwise.
Of course one of Satan's greatest achievements is convincing much of the world that he doesn't exist.
Read More @ EndOfTheAmericanDream.com
Help us spread the ANTIDOTE to corporate propaganda.

Please follow SGT Report on Twitter & help share the message.