by Jim Rickards, DailyReckoning: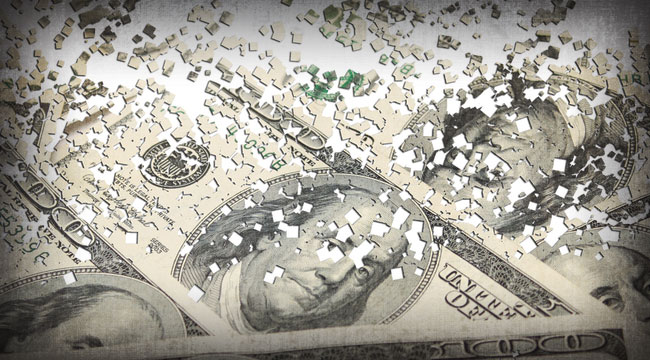 I was surprised this week that the stock market reached new highs — despite the fact that expectations of a March rate hike by the Fed moved from 40% to 60% in three days. Today those expectations are about 75%.
But I've been calling a March rate hike since late December. I was almost alone in that view. Wall Street analysts were paying lip service to the idea that the Fed might raise rates twice before the end of the year, but said the process might begin in June, not March. Market indicators were giving only a 25% chance of a rate hike within the past couple weeks.
Is it because I'm smarter than all these other analysts?
No, I certainly don't claim to be smarter than any of them. It's just that I use better analytical techniques based on complexity theory, behavioral psychology and other sciences that account for the ways actual markets behave. Meanwhile, most analysts are using outdated, static models that don't apply to the real world.
Speculation began after Janet Yellen's testimony to House and Senate committees last month. She said a solid job market and an overall improving economy suggested the Fed would likely resume raising rates soon. But, Yellen did not say anything she hadn't said in December.
But suddenly this week everything heated up. Now the markets agree that a rate hike is coming, thanks to an orchestrated campaign of speeches and leaks from senior Fed officials. Several Fed members have been talking about the need to tighten, including Fed Governor and uber-dove Lael Brainard. When she starts sounding like a hawk, it's time to pay attention.
As I said, markets are now pricing in nearly a 75% chance of a March rate hike (my estimate is now 90%).
But there's a big difference between the dynamics behind my view of a rate increase and the market's view. In effect, markets are saying, "The Fed is hiking rates, therefore, the economy must be strong."
What I'm saying is "The Fed is tightening into weakness (because they don't see it), so they will stall the economy and will flip to ease by May."
My view is the economy is fundamentally weak, the Fed is tightening into weakness. By later this year, the Fed will have to flip-flop to ease (via forward guidance) for the ninth time since 2013. Stocks will fall, while bonds and precious metals will rally.
Both theses start with a rate hike, but they rest on totally different assumptions and analyses.
Under my scenario, the stock market is headed for a brick wall in April or May, when weak first-quarter data roll in. But for now, it's still up, up and away.
My take is that the Fed is desperate to raise rates before the next recession (so they can cut them again), and will take every opportunity to do so. I believe the Fed will raise rates 0.25% every other meeting (March, June, September and December) until 2019 unless one of three events happens — a stock market crash, job losses, or deflation.
Right now the stock market is booming, job creation is strong, and inflation is emerging. So, none of the speed bumps are in place. The coast is clear for the March rate hike.
There is a great deal of happy talk surrounding the market right now. But with so much bullishness around, it's time to take a close look at the bear case for stocks. It's actually straightforward.
Growth is being financed with debt, which has now reached epic proportions. The debt bubble can be seen at the personal, corporate and sovereign level. Sure, a lot of money has been printed since 2007, but debt has expanded much faster.
Read More @ DailyReckoning.com
Help us spread the ANTIDOTE to corporate propaganda.

Please follow SGT Report on Twitter & help share the message.