by Michael Snyder, End Of The American Dream: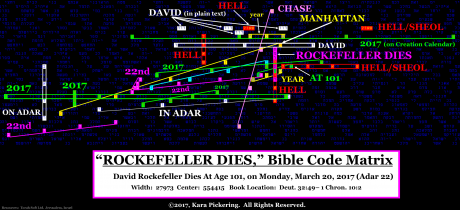 Did someone know in advance that David Rockefeller would die on March 20th, 2017? What I am about to share with you is absolutely astounding. Bible code researcher Kara Pickering has found an incredible Bible code matrix that contains the phrase "Rockefeller dies" along with the terms "Chase", "Manhattan", "2017" and the specific date on the Hebrew calendar (Adar 22) when he actually died. Of course David Rockefeller served as the CEO of Chase Manhattan for over a decade, and he was widely considered to be one of the strongest proponents of a "New World Order".
When my wife and I first received this Bible code matrix from Kara Pickering we were completely floored, and she has given us permission to share it with all of you. As you can see, the specific details that it contains about Rockefeller are quite stunning…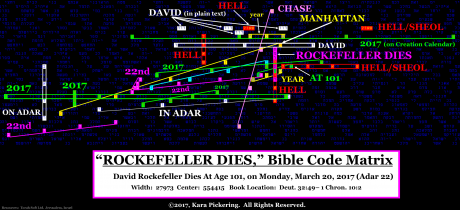 These are just some of the key terms that Kara Pickering was able to discover in this amazing matrix…
-"Rockefeller dies"
-"David" appears five times
-"Chase"
-"Manhattan"
-"2017" appears five times
-"Adar" appears twice
-"22nd" appears three times (Adar 22nd is March 20th on our calendar)
-"At 101" (the age Rockefeller was when he died)
You can view the original Bible code matrix created by Kara Pickering right here. In the chart above, you can see that "hell" shows up five times, but she told us that it is actually in there quite a few more times.
Is it just some sort of extremely bizarre coincidence that all of these phrases can be found in a single matrix?
Of course other researchers have been making extraordinary Bible code discoveries for many years. It truly does appear that information about our future was encoded within the pages of Scripture thousands of years ago, and this is something that skeptics have a very hard time dealing with.
Read More @ EndOfTheAmericanDream.com
Help us spread the ANTIDOTE to corporate propaganda.

Please follow SGT Report on Twitter & help share the message.