by Pam Martens and Russ Martens, Wall Street On Parade: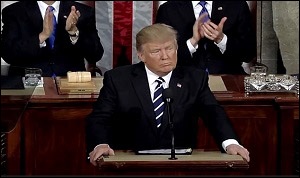 In President Trump's speech last evening to a joint session of Congress, he described his plan to rebuild America's crumbling infrastructure as follows:
"To launch our national rebuilding, I will be asking the Congress to approve legislation that produces a $1 trillion investment in the infrastructure of the United States — financed through both public and private capital — creating millions of new jobs."
Financed through "both public and private capital" sounds a lot like a public-private partnership. Here's how those hybrid creatures have worked out so far for the American people.
Fannie Mae and Freddie Mac were, effectively, public-private partnerships. (The government preferred to call them "Government Sponsored Enterprises" or GSEs.) Each company traded on the New York Stock Exchange and each company had private shareholders. Because Fannie and Freddie had a line of credit from the U.S. Treasury and the market's perception that the U.S. government would never allow them to default, their bonds carried a triple-A rating. Wall Street played that public-private partnership for all it was worth. The big Wall Street banks sold Fannie and Freddie hundreds of billions of dollars of junk residential mortgages, which they knew from internal reviews were likely to default, while representing to Fannie and Freddie that these were good mortgages. Then Wall Street, with inside knowledge of the house of cards it had built, sold the debt issued by Fannie and Freddie to public pensions and university endowments as triple-A investments.
On September 9, 2008, one week before the collapse of Lehman Brothers, the U.S. government took over Fannie and Freddie as it became clear to the markets that the assets backing their bonds were a pile of toxic sludge.
This is how the Financial Crisis Inquiry Commission report (the official report on the 2008 financial collapse) summed up the situation at Fannie and Freddie:
Read More @ Wallstreetonparade.com
Help us spread the ANTIDOTE to corporate propaganda.

Please follow SGT Report on Twitter & help share the message.