by Wolf Richter, Wolf Street:
"Many fear the Fed is behind the curve. The market is even further behind: This is clearly a dangerous situation."
US government debt took another beating today. As prices fell, yields rose to new multi-year highs. The 10-year Treasury yield rose 5 points to 2.625%, the highest since September 2014, when it just briefly kissed that level. At this pace, the yield will soon double from the record low of 1.36% in July last year.
This chart shows the progression of the 10-year Treasury yield since late August (chart via StockCharts.com):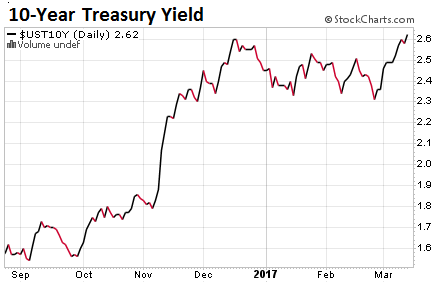 When yields were surging maniacally in November and December – broadly called the "bond massacre" or the "bond meltdown" or similar – I pontificated that eventually yields would fall back some, "on the theory that nothing goes to heck in a straight line." And they did start falling back in mid-December. But that three-month breather has now been totally undone.
Two-year Treasuries took it on the chin too today, and the yield jumped to 1.40%, the highest since June 2009 (chart via StockCharts.com).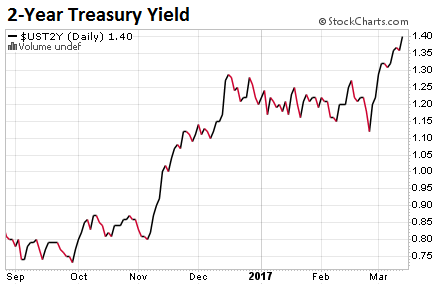 The 30-year yield rose to 3.20%, the highest since July 2015. When yields rise, bonds with long maturities lose the most value.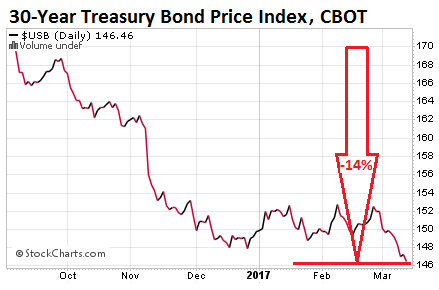 The markets are coming to grips with a new-new normal, which replaced the old-new normal: a Fed worried about inflation and "over-extended" asset prices, with some segments, such as commercial real estate, being now officially mentioned as big potential risks to lenders. But the markets aren't coming to grips with this nearly fast enough.
Steve Barrow, currency and fixed-income strategist at Standard Bank, in a note to clients, cited by MarketWatch, put it this way:
Indeed, it is interesting that, at a time when many fear the Fed is falling behind the curve given full employment, near-target inflation, and the likely easing of fiscal policy, the market is even further behind.

This is clearly a dangerous situation because it suggests that if the Fed has to scramble to push rates up, as the – likely – March hike suggests, the market needs to adjust much faster still.
This "adjustment" means that government debt would fall further, and yields would continue to rise.
There are consequence in the real economy, among them: Mortgage rates follow yields of mortgage-backed securities – of which the Fed bought $1.76 trillion to repress mortgage rates to artificially low levels. MBS yields follow Treasury yields with longer maturities. See above "bond massacre."
Help us spread the ANTIDOTE to corporate propaganda.

Please follow SGT Report on Twitter & help share the message.