by Pam Martens and Russ Martens, Wall Street On Parade: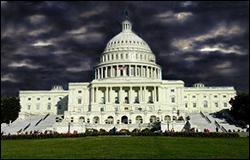 Two events conspired this past week to force us to reassess if America can ever find its way home; (home being a nation that honors its citizens' Bill of Rights — the amendments to the U.S. constitution that preserve the individual's freedoms and protect the individual from abuse of power.)
We have been contemplating how the best and the brightest could serve in Washington in dedicated service to the citizens of their country by watching Aaron Sorkin's West Wing, the television series that ran on NBC from the fall of 1999 to the spring of 2006. (It perhaps speaks to where we are as a nation that its citizens must turn to fictional writing to imagine sanity in government.) There is a memorable scene in one West Wing episode where Jed Bartlet, the fictional President of the United States played by Martin Sheen, is sitting in the Situation Room listening to recommendations from his military advisers on how to respond to American citizens coming into harm's way at the hands of a foreign power.
Bartlet tells the room the following:
Bartlet: "Did you know that two thousand years ago a Roman citizen could walk across the face of the known world free of the fear of molestation? He could walk across the Earth unharmed, cloaked only in the protection of the words civis Romanus — I am a Roman citizen. So great was the retribution of Rome, universally understood as certain, should any harm befall even one of its citizens…"
The next epiphany of where we once were as a nation came this past weekend while leafing through an antique book which had scraps of newspaper and book clippings from the late 1800s tucked within its pages. One document scrap read as follows: "The first step taken by President McKinley upon assuming the duties of his office was for the protection and release of American citizens in Cuba held in Spanish prisons." McKinley took office on March 4, 1897.
Today, the greatest threat to the rights and freedoms of American citizens derives not from a foreign power but from a corporate/billionaire controlled government in Washington. Because most members of Congress and the President must rely on corporate money and billionaires to finance their political campaigns, citizens' rights have given way to the advancement of corporate rights to abuse the citizenry.
Read More @ Wallstreetonparade.com
Help us spread the ANTIDOTE to corporate propaganda.

Please follow SGT Report on Twitter & help share the message.