by Wolf Richter, Wolf Street:
Workers, bondholders, savers get sacked. So what would Yellen do?
Consumer prices surged 0.6% in January from December, double the consensus forecast of a 0.3% rise. The sharpest monthly increase since February 2013, according to the Bureau of Labor Statistics.
Energy prices jumped 4% month over month, including gasoline which jumped 7.8%. Food prices edged up 0.1%. Within this group, "food at home" was unchanged, but prices for "food away from home" – restaurants, taco trucks, and the like – rose 0.4%. In just one month, the prices of apparel rose 1.4%, of new vehicles 0.9%, of auto insurance 0.8%, of airline fares 2.0%. Shelter rose "only" 0.2%, as the national numbers are now feeling the downward pressure on rents in some of the most expensive rental markets in the US.
This chart shows just how sharp that jump in monthly price increases is, compared to recent years: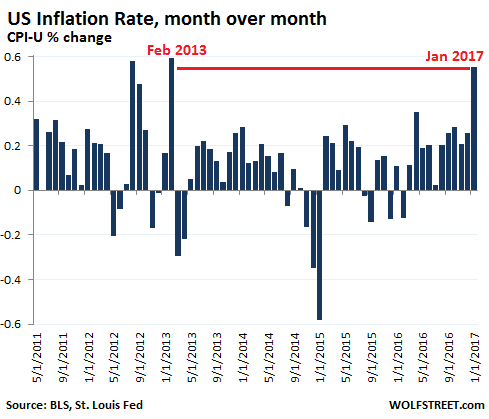 Compared to January a year ago, consumer prices as measured by CPI-U surged 2.5%, after having already jumped 2.1% in December. The rate of inflation has now accelerated for the sixth month in a row. It has surged one full percentage point over the past four months and hit the highest rate since March 2012: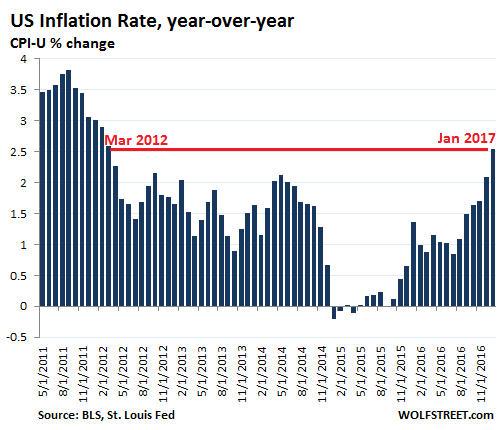 So-called core inflation – which excludes food and energy – jumped 2.3% in January from a year ago. The consensus expected 2.1%. So you can't just blame the rising costs of energy. This "core" measure of price increases has been above 2% since November 2015. Even during the Financial Crisis, when overall year-over-year CPI dipped briefly into the negative, core CPI remained in positive territory.
However much these inflation measures may understate actual increases in the costs of living that people experience in their daily lives, even those understated measures are now beginning to exude a lot of heat. And afterwards, the consensus will say that no one saw this coming.
So here is what inflation does to workers and consumers: it eats up the purchasing power of their wages. In that vein, the Bureau of Labor Statistics also reported today that real (inflation adjusted) average weekly earnings dropped 0.6% in January from a year ago, as nominal wage increases were more than wiped out by inflation.
But businesses are in denial, according to the Atlanta Fed's survey of Business Inflation Expectations, also released today. Businesses anticipate 2.0% inflation over the coming year. That's down from two months ago when they expected inflation over the next 12 months to increase by 2.2%.
The Fed has a special term for this phenomenon of denial: inflation expectations are "well anchored."
Bondholders are in denial too, or they quietly accept "financial repression" as their fate. This is when yields do not compensate bondholders for the loss of purchasing power of the principal when the bond is redeemed at maturity.
The 10-year Treasury yield inched up today to 2.5%, even with January's year-over-year inflation rate. All shorter maturities are way below the rate of inflation with the annualized 3-month yield at 0.53% and the 2-year yield at 1.25%. At these yields, inflation consumes all of the yield plus some of the purchasing power of the principal. In other words, investors end up in the hole.
Savers have been forced into financial repression since whenever, but no one cares about them. They're sitting ducks. They've been among those that were tasked by the Fed to pay for the biggest wealth transfer of all times that is now morphing into the next stage via inflation.
So what would Yellen do?
Help us spread the ANTIDOTE to corporate propaganda.

Please follow SGT Report on Twitter & help share the message.