by Pam Martens and Russ Martens, Wall Street On Parade: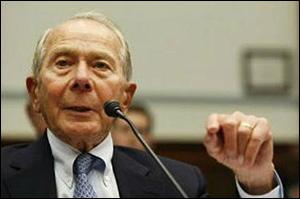 In 2005 and 2006, Wall Street Journal reporters distinguished themselves in covering the charges of fraud being hurled at the giant insurer AIG and its CEO, Maurice (Hank) Greenberg. At that point, the Bancroft family had owned the Wall Street Journal for more than a century. But in 2007, Rupert Murdoch and his corporate entity, News Corp, bought the newspaper. The paper's editorial page has subsequently taken bizarre positions on Wall Street's crimes, refusing to allow the facts to get in their way.
Last evening, hitting a new low in the arena of "alternative facts," the Wall Street Journal opined that Maurice (Hank) Greenberg, the former Chairman and CEO of the giant bailed-out insurer, AIG, had received a "vindication" by last Friday's settlement with New York State Attorney General, Eric Schneiderman. The editorial characterized the case against Greenberg as a "revenge campaign" started by former Attorney General Eliot Spitzer for Greenberg having dared to "criticize his prosecutions against business."
Reading the actual documents that New York State Attorney General Schneiderman released, the Wall Street Journal appeared to have stepped into a serious case of brain fog. Schneiderman's statement included the following headlines:
"Greenberg And [Howard] Smith [former AIG CFO] Agree To Return Multi-Million Dollar Bonuses They Received While The Frauds Were On AIG's Books;
"When Combined With Previous SEC Settlement, Greenberg Will Have Disgorged Nearly Every Dollar In Bonuses He Received During The Period Of The Fraud."
Schneiderman also released the following statement:
"Today's agreement settles the indisputable fact that Mr. Greenberg has denied for twelve years: that Mr. Greenberg orchestrated two transactions that fundamentally misrepresented AIG's finances. After over a decade of delays, deflections, and denials by Mr. Greenberg, we are pleased that Mr. Greenberg has finally admitted to his role in these fraudulent transactions and will personally pay $9 million to the State of New York."
If you add the $9 million to the $15 million Greenberg paid the Securities and Exchange Commission in 2009 to settle similar charges, that's $24 million. That doesn't sound like vindication; it sounds like getting off very cheap for securities fraud.
Greenberg started at AIG in 1960 and became CEO in 1967. In 1989, he also became Chairman. Greenberg ran AIG with an iron hand until he was forced to resign in 2005. In 2009, the SEC leveled extremely serious charges against Greenberg and Smith – then accepted payment of monetary fines and no admissions of guilt. The SEC alleged:
Read more @ wallstreetonparade.com:
Help us spread the ANTIDOTE to corporate propaganda.

Please follow SGT Report on Twitter & help share the message.