by Pam Martens and Russ Martens, Wall Street On Parade: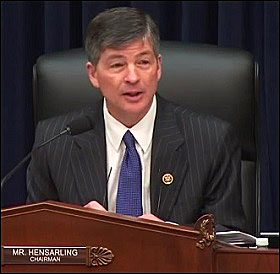 Jeb Hensarling is the Republican Chair of the Financial Services Committee in the U.S. House of Representatives. Despite the seriousness of that job, Hensarling displays amazing ignorance of the inner workings of Wall Street at the hearings over which he presides. Unlike Senator Bernie Sanders who stumped around the country for more than a year during his primary campaign, reinforcing to Americans what they already suspected, that "the business model of Wall Street is fraud," Hensarling wants to kill the few restraints on this criminal cartel that currently exist. He has been well financed by Wall Street to get the job done.
Among Hensarling's largest donors for his 2016 re-election campaign were every major Wall Street bank, including two admitted criminal felons (JPMorgan Chase and Citigroup's Citicorp) as well as those charged with market rigging and serial frauds against the investing public. Wall Street mega banks giving $10,000 or more to Hensarling's campaign included: Bank of America, $15,000; JPMorgan Chase $14,700; Goldman Sachs $12,700; UBS $10,500; Citigroup $10,000; Credit Suisse $10,000; Morgan Stanley $10,000; Wells Fargo $10,000; and Wall Street's trade association, the Securities Industry and Financial Markets Association (SIFMA), which gave Hensarling $10,000. (Our source is the Center for Responsive Politics which notes that "The organizations themselves did not donate, rather the money came from the organizations' PACs, their individual members or employees or owners, and those individuals' immediate families." Corporations are not legally allowed to donate directly to campaigns.)
Over the past week, Hensarling has been on a public relations mission to portray the Wall Street-hated Consumer Financial Protection Bureau (CFPB) as a "rogue" federal agency and smear Senator Elizabeth Warren as its mastermind. Last night, this headline appeared over an opinion piece by Hensarling in the Wall Street Journal: "How We'll Stop a Rogue Federal Agency: Congress can defund Elizabeth Warren's unaccountable and unconstitutional CFPB."
Millions of Americans understand that this is simply more of the new Trump-era Orwellian Reverse Speak. The danger is that big media is carrying Hensarling's false propaganda to millions of uninformed Americans who are too busy struggling to feed their families to follow the Machiavellian plunderings by Wall Street. Hensarling has also been making the rounds of cable news shows repeating his attacks on the CFPB and calling for its courageous Director, Richard Cordray, to be fired by President Donald Trump.
In reality, the CFPB is the most consumer-friendly of the Wall Street watchdogs. It allows those who have been victimized by financial firms, even where small amounts of money are involved, to file a complaint and receive a response. Wall Street hates the fact that these complaints go into a permanent database, which can be mined by class-action attorneys and prosecutors looking for patterns of fraud and by media outlets like Wall Street On Parade to keep the public informed. (See our related articles below.)
Read more @ wallstreetonparade.com:
Help us spread the ANTIDOTE to corporate propaganda.

Please follow SGT Report on Twitter & help share the message.