by Wolf Richter, Wolf Street: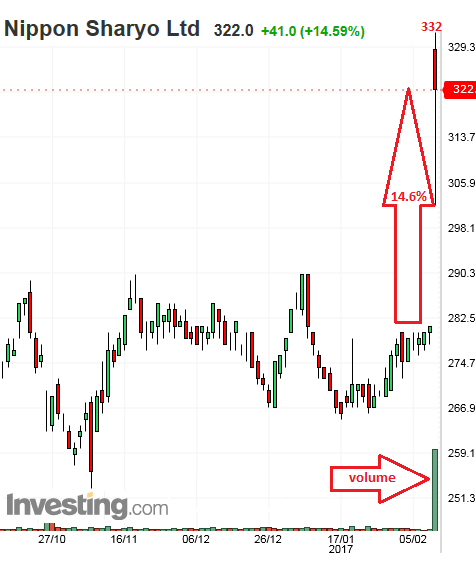 President Donald Trump met with airline CEOs at the White House on Thursday. At the core of the discussion was the overhaul of the Federal Aviation Administration, including changes to the "totally out of whack" national air-traffic control system. He had other goodies for the airline CEOs.
Afterwards, Southwest Airlines CEO Gary Kelly told reporters that the meeting had been "delightful." It seems they'd gotten pretty much what they'd wanted. "We are very well-aligned on some very key topics: income tax reform, regulatory reform, and especially growing our industry," he said.
But something wasn't picked up by the US media, though it was picked up by hedge funds and other speculators: In his remarks, Trump mentioned high-speed rail in the US. And on Friday, Japanese stocks dealing with high-speed rail systems soared on huge volume! And even in China, it happened.

In his remarks (transcript) to the aviation CEOs, Trump said this about US high-speed rail, while complaining about airports:
As an example, some of you were saying yesterday to me that you go to China, you go to Japan, they have fast trains all over the place. We don't have one. I don't want to compete with your business — (laughter) — but we don't have one fast train.
And a few sentences on US airports and the Middle East later, he added:
And we have an obsolete plane system, we have obsolete airports, we have obsolete trains. We have bad roads. We're going to change all of that, folks. You're going to be so happy with Trump. I think you already are.
"We're going to change all of that, folks." And that apparently includes high-speed rail in the US.
This was followed up by Japanese Prime Minister Shinzo Abe, who after his meeting with Trump on Friday in his remarks (transcript) mentioned investment by Japan Inc. in the US, and then veered into high-speed rail and what Japanese companies with expertise in high-speed rail could do in the US to help move these projects forward. It would be nurtured with federal stimulus funding:
Help us spread the ANTIDOTE to corporate propaganda.

Please follow SGT Report on Twitter & help share the message.