by Stefan Stanford, All News Pipeline: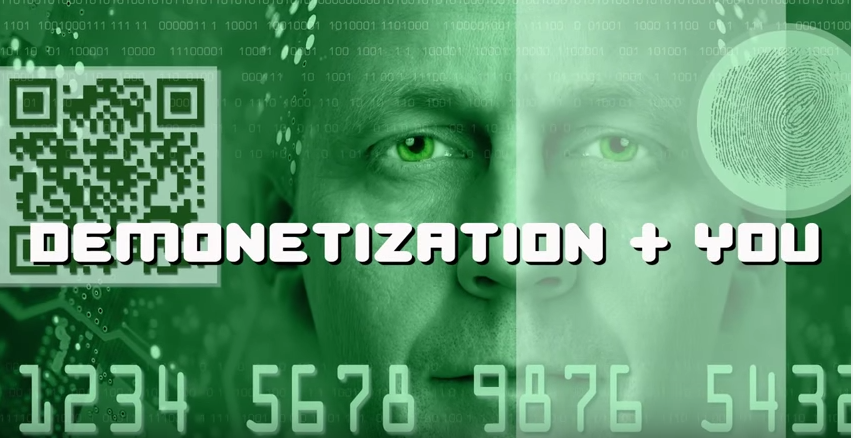 'Demon'-etization is the act of stripping a currency unit of its status as legal tender. It occurs whenever there is a change of national currency: The current form or forms of money is pulled from circulation and retired, often to be replaced with new notes or coins.
The email yesterday came in to All News Pipeline from a reader quite concerned about the notice which a family member had just received from their bank – a credit union – which proved to them that once you put your money in the bank, you no longer own it. Another reason for Americans to keep their money out of the banking system, you can see a screenshot of that notice below.
As the 'Change to Terms and Conditions" notice begins: effective February 1, 2017, the following addition has been made to the Membership and Account Agreement section of the Suncoast Credit Union Account Agreement and Disclosure.
RIGHT TO RESTRICT SERVICES AND ACCOUNT ACCESS – We reserve the right to restrict, deny, suspend or terminate Credit Union services and/or your ability to access or withraw account funds at any time, for any reason and without notice to you, in our sole discretion, to the maximum extent permitted under applicable law.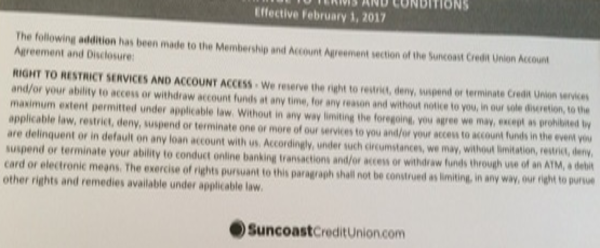 Just more proof that we really don't 'own' our 'paper money' at all once we deposit it into a bank, and an 'instant red pill' for unsuspecting customers, we get more and more evidence in just the last few weeks that even though the globalists have lost their iron 'grip' upon America with Donald Trump voted in office, they've moved on to 'plan B' with a mad rush towards a cashless society.
Also the latest example of what may be coming to America in the future when the globalists usher in 'the mark of the beast' to our nation with their 'cashless society', we see in the headlines of stories all across the world that cash is going the way of the dinosaurs. And with the ushering in of a cashless society also comes 'complete control' for the satanic globalists who long ago sold away their souls to satan with their promise to him they'll stomp upon the faces of humanity, forever.
The recent story from Bloomberg is called "Surprise! Your Cash Is Now Worthless" within which they report upon India's drive to stamp out corruption by invalidating more than 80% of the currency in circulation. We shouldn't be the least bit surprised to report that according to Bloomberg's story, "the action might just end up working".
'Fake news' Washington Post has gleefully jumped on the 'Mark of the Beast' bandwagon, putting out a story last month urging the US to follow up on what India is doing, a move they report is akin to the Great Wall of China or America's interstate highway system. Should America bring in a fully digital payment system?
Read More @ AllNewsPipeline.com
Help us spread the ANTIDOTE to corporate propaganda.

Please follow SGT Report on Twitter & help share the message.