by Wolf Richter, Wolf Street: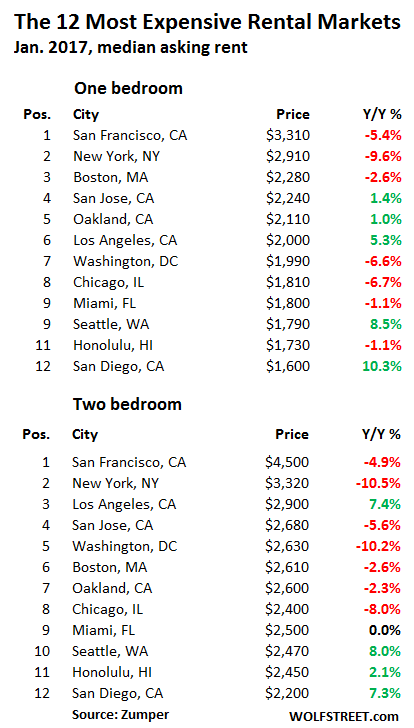 The overall figures of relatively sanguine year-over-year rent increases in the US hide the drama playing out city by city, with rents plunging in the most expensive markets while they're soaring in less expensive markets.
If you're looking to rent an apartment today in San Francisco, the most ludicrously expensive market in the US, you will run into something that rarely occurred in the past: incentives. Big incentives, not just a gift card.
A search on Craigslist for apartments in San Francisco offering incentives brought up this:
"1 month free" produced 503 results. They include some flukes, like "1/2 month free." But mostly, the offers of one month free rent sound tantalizing: from "amazing one bedroom in Nob Hill" (one of the more expensive neighborhoods) to "beautiful Hayes Valley" (one of the cooler neighborhoods), and "great walkability" (one of the most important features in a city with nerve-wracking traffic).
"6 weeks free" produced 96 deals, from the "Sweetheart special" to "ideal floorplan" and, desperately, "lease today get six weeks free."
"8 weeks free" produced 31 results from "gorgeous 2 bedroom" to "love your space" and even more desperately, "don't miss out!" Then there's "2 months free" which produced 345 results but included a lot search flukes.
This is like so un-San Francisco. Landlords are actually trying to market apartments and rope in potential tenants. They're offering deals instead of fighting off throngs of bidders that are jostling for position to submit a whole dossier of how great they are, along with a signed application, without having even looked at the place.
And it shows. In January, the median asking rent for a one-bedroom – not including any of the above incentives – dropped 5.4% from a year ago to $3,310, according to Zumper's National Rent Report. And median asking rent for a two-bedroom dropped 4.9% to $4,500, which is down 10% from the crazy peak in October 2015.
The last time rents declined year-over-year was in April 2010 as the housing bust was bottoming out.
Help us spread the ANTIDOTE to corporate propaganda.

Please follow SGT Report on Twitter & help share the message.