by Pam Martens and Russ Martens, Wall St On Parade: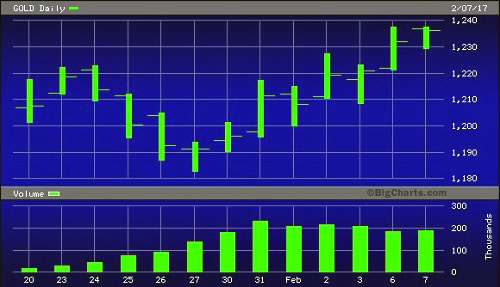 The price of gold (see above chart) has been rising and its volume spiking since President Donald Trump signed his infamous Executive Order on immigration on January 27. That action ushered in a new U.S. era of uncertainty in which thousands of agreements, such as Lawful Permanent Resident status known as a green card, can be casually broken by one man in the Oval Office signing an Executive Order and setting off pandemonium in lives and airports around the globe. It raises the fear of what other established laws or rights the President might attempt to sign away.
Gold typically rises when there is fear in stock markets. But the stock market has not been following its typical relationship to gold by selling off. Since Trump's presidential win in early November, the Standard and Poor's 500 has been on a steady uptrend. We'll analyze that further in a moment, but first some necessary background.
)
At the top of the list of what the stock market hates is uncertainty. Thus, one would have suspected that when the United States elected a President who had never before served in public office with a penchant for hurling insults at the country's largest trading partners, and who promised radical changes in the oversight of Wall Street, there would have been a major selloff in stocks.
That didn't happen because Trump quickly sent hand signals to the biggest traders on Wall Street: the big Wall Street banks (yes, despite the Volker Rule they're still major traders) and the hedge funds. Trump quickly placed Goldman Sachs progeny in key spots in his administration. To make sure the SEC didn't crack down on high frequency trading or Wall Street's Dark Pools – the magical wings beneath the market's buoyancy – someone whispered in Trump's ear that Jay Clayton, an outside lawyer to Goldman Sachs at the powerful law firm, Sullivan & Cromwell, should become the nominee to Chair the Securities and Exchange Commission.
Having Clayton sitting atop the SEC will work especially well for Goldman as Clayton's wife works for Goldman as one of its many Vice Presidents. Under Federal rules, the conflicts of the spouse become the conflicts of the government employee, meaning that Clayton will conveniently have to recuse himself from any decisions directly impacting Goldman. If Clayton proves to be as efficient as his predecessor, Mary Jo White, he'll bring his enforcement chief along from his same law firm – so they are both on the same page when it comes to handing out minor fines and settling without an admission of guilt for Wall Street's serial larcenies. And, of course, they're both highly likely to return to Sullivan & Cromwell and get a nice pay bump when their government service has run its course. If they're as lucky as Eric Holder, the former U.S. Attorney General who failed to prosecute even one top executive of a major Wall Street bank after the greatest financial frauds in U.S. history, their law firm might even have a corner office waiting for them. Holder also brought along Lanny Breuer from his law firm, Covington & Burling, and made him the head of the Justice Department's Criminal Division. According to the PBS program Frontline, Breuer made sure there were "no subpoenas, no document reviews, no wiretaps" against the largest Wall Street banks. In other words, the typical criminal investigation techniques went missing at the Holder/Breuer Justice Department when it came to Wall Street.
Read More @ WallStOnParade.com
Help us spread the ANTIDOTE to corporate propaganda.

Please follow SGT Report on Twitter & help share the message.