by Pam Martens and Russ Martens, Wall Street On Parade: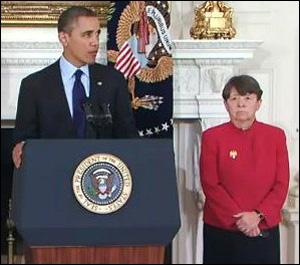 Less than two weeks after Mary Jo White was nominated to become Chair of the Securities and Exchange Commission by President Barack Obama on January 24, 2013, White filed an ethics disclosure letter advising that she would "retire" from her position representing Wall Street banks at the law firm Debevoise & Plimpton. White wrote on this subject in great detail, stating:
"Upon confirmation, I will retire from the partnership of Debevoise & Plimpton, LLP. Following my retirement, the law firm will not owe me an outstanding partnership share for either 2012 or any part of 2013. As a retired partner, I will be entitled to the use of secretarial services, office space and a blackberry at the firm's expense. For the duration of my appointment, I will forgo these three benefits, though I may pay for some secretarial services at my own expense. Pursuant to the Debevoise & Plimpton, LLP Partners Retirement Program, I will receive monthly lifetime retirement payments from the firm commencing the month after my retirement. However, within 60 days of my appointment, the firm will make a lump sum payment, in lieu of making monthly retirement payments for the next four years. Within 60 days of my appointment, I also will receive payouts of my interest in the Debevoise & Plimpton LLP Cash Balance Retirement plan and my capital account."
Yesterday it was widely reported in the business press that Mary Jo White is returning to her former law firm as a partner representing clients who face government investigations.

She will also fill the newly created position of Senior Chair of the law firm.
This news is highly significant because it would appear that the U.S. Senate was seriously misled by White's ethics letter in its deliberations to confirm her as the top cop of Wall Street.
The news is also highly significant because it will mark the fourth time in four decades that Mary Jo White has spun through the revolving doors of Debevoise & Plimpton (where she represented serial law violators) to government service (prosecuting serial law violators). The timeline is as follows:
2002 to 2013: White is a Debevoise & Plimpton partner, representing some of Wall Street's serially charged banks: JPMorgan Chase, UBS, Bank of America, Morgan Stanley;
1993 to 2002: White is U.S. Attorney for the Southern District of New York (where Wall Street is located);
1990 to 1993: White serves as First Assistant United States Attorney and Acting United States Attorney in the Eastern District of New York;
1983 to 1990: White is litigation partner at Debevoise & Plimpton, where she focuses on white collar defense work, SEC enforcement matters and other corporate work;
1978 to 1981: White works as Assistant United States Attorney in the Southern District of New York, where she became Chief Appellate Attorney of the Criminal Division;
1976 to 1978: White is Associate at Debevoise & Plimpton.
White's representation in 2013 that she was retiring proved very financially beneficial to her. Her Partners Retirement Program entitled her to receive $42,500 per month or $510,000 per year.
Read more @ wallstreetonparade.com:
Help us spread the ANTIDOTE to corporate propaganda.

Please follow SGT Report on Twitter & help share the message.