by Wolf Richter, Wolf Street:
The price of corruption.
In a stunning deterioration, the unemployment rate in Brazil spiked to 12.6% in the rolling three-month period through January, a record in the new data series going back to 2012, according to Brazil's statistical agency IBGE. Up from 11.8% in the three-month period through October. Up from an already terribly high 9.5% a year ago. And more than double the 6.2% in December 2013.
Economists had expected the unemployment rate to rise to 12.4%. After three years of underestimating the political, fiscal, and economic fiasco in Brazil, they're still underestimating it.
For example, by the end of 2015, the consensus forecast for unemployment by the end of 2016 was 9.1%, according to Focus Economics. On average, economists essentially expected the unemployment rate to remain flat for the year. A huge miss, when in fact the unemployment rate soared by 3.1 percentage points in the four quarters through January.
At the time, they figured that the unemployment rate would drop to 8.8% by the end of 2017. It is now clear that it would take a miracle to accomplish that.
The report also pointed out:
The number of unemployed soared by 34.3% year-over-year to 12.9 million persons (Brazil has a total population of 210 million).
The number of employed dropped by 1.9% year-over-year, or by 1.7 million to 89.9 million people.
This chart shows the unemployment rates of the three-month rolling periods. Note the brutal jump in January (via Trading Economics, red marks added):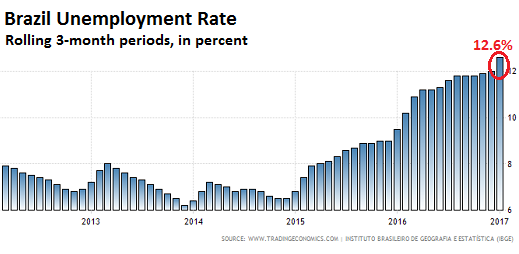 Here are the sectors that shed the most workers compared to the same quarter last year:
General industry: -7.4% (-897,000 workers)
Construction: -9.6% (-755,000 workers)
Agriculture, livestock, forestry, fishing and aquiculture: -4.6% (-434,000 workers)
Domestic services: -3.5% (223,000 workers)
Employment rose only in lodging and food services: +8.7% (+393,000 workers). The remaining sectors maintained stable employment.
Help us spread the ANTIDOTE to corporate propaganda.

Please follow SGT Report on Twitter & help share the message.